---
We stand at a junction where impactful legislation and programs exists but are not empowered by necessary levels of funding. And, in the case of Federal legislation, when a new government takes effect, all bills previously in progress need to be re-introduced for consideration. In order for programs to continue and for child protection legislation to be effective, we must stand together on critical legislation and speak with one voice so that Congress will take action in a meaningful direction to address these important issues.
Your heart and voice can be their hope! On the nationally designated date of Childhelp National Day of Hope, April 7, there are several important issues Childhelp looks to promote with legislators – and we invite you to join us!
---
What is the Childhelp National Day of Hope?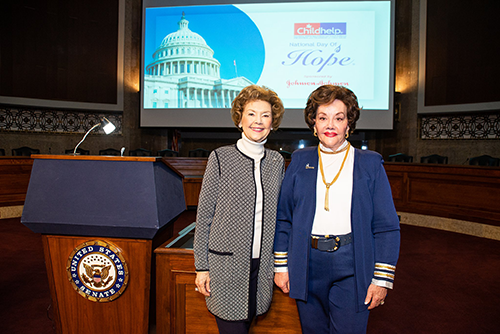 Our Founders, Sara O'Meara & Yvonne Fedderson worked with the Carter Administration who designated April as National Child Abuse Prevention month, as the first step in recognizing the problem of child abuse and neglect. On February 14, 2000, Congress unanimously voted designating the first Wednesday of each April to be known as Childhelp National Day of Hope. On this day, from coast to coast, we honor the little ones who lost their lives to abuse, as well the precious children in our midst still battling for their lives. For the past few decades, Childhelp has held an event on Capitol Hill during the month of April to meet with our Senators and Representatives to thank them for their work in child welfare and let them know about Childhelp's successful programs and the most vulnerable children we serve. This year's event on Capitol Hill is known as a virtual fly-in. This allows for advocates to hear directly from the member of Congress and staff, as well as educate on the needs of our programs and kiddos.
Who will be attending the virtual meetings?
At least one Childhelp staff member will be in the meeting alongside other advocates and volunteers, including Childhelp board and chapter members and of course Senior Congressional Staff and Members of Congress. This is the first time Childhelp is holding this time honored event virtually, due to the pandemic, and hope to add a virtual option moving forward.
Why participate in the fly-in meetings?
Members of Congress want and need to hear from their constituents about what matters in their community, the programs in their community and how they can be helpful. Congress turns the voices of their citizens into data points of what matters. Due to events like this, we were able to get much needed grant funding to support the National Child Abuse Hotline.
What is the time commitment of the virtual meetings?
The time commitment is up to you! Meetings will take place all day long and across the country with Members of Congress in their home state/district offices. Meetings with your particular Member of Congress will last about 30 minutes and there may be anywhere from 1-4 meetings that day. We would love to have you join as many as you can. We are working on scheduling meetings soon and a you will be provided with a draft schedule ahead of time (about a week out).
What is required after participation?
We are grateful for your participation and would just ask that you send a thank you email to the staff and Members of Congress that meet with you. All the information will be provided to do so and can be done through the Childhelp National Day of Hope website. Childhelp will also be sending around a survey a few days after CH NDOH, to hear your thoughts on what worked well, what you liked, and what can be improved upon.
Now that you understand what our Childhelp National Day of Hope Virtual Fly-In is about and the commitment involved, JOIN US by registering today!
Please contact Cheridan Melvin at cmelvin@childhelp.org or 480-922-8212 with any questions.

To make a financial gift of support to Childhelp's Government Affairs efforts, please visit Childhelp Dream a Dream – Government Affairs.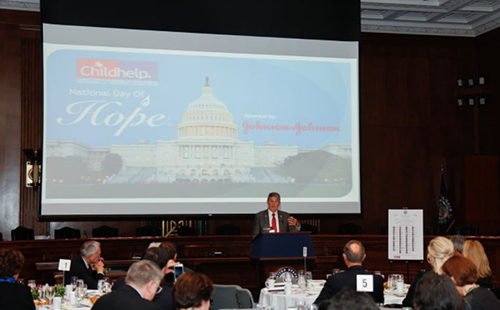 ---
Founded in 1959 by Sara O'Meara and Yvonne Fedderson, Childhelp is one of the largest and oldest national non-profit organizations dedicated to the treatment and prevention of child abuse and neglect. 85 cents of every dollar is invested in Childhelp programs which directly serve abused children and their families, focusing on meeting the children's physical, emotional, educational and spiritual needs.