PHOENIX (April 29, 2019) – As any parent knows, it isn't always easy to talk to teens. It can be even more challenging to communicate with teens and young people in crisis. But a national nonprofit focused on the treatment and prevention of child abuse is leading the way to help youth and families in need with an innovative new platform to connect them with trained professional counselors.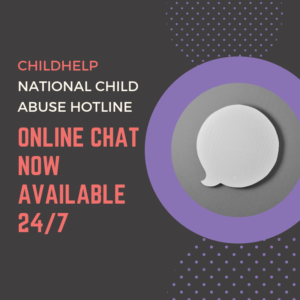 Today, Childhelp launched the final phase of its nationwide initiative to reach youth in crisis by adding online chat services to its recently launched text platform. Now, both text and online chat services are available throughout the U.S. and Canada as part of the Childhelp National Child Abuse Hotline.
Nationally, approximately five children die every day from child abuse and neglect. Now, anyone concerned about child abuse and neglect issues can speak directly with professional crisis counselors 24/7 over the phone, through text and on the online chat platform.
"We are here to save lives," Childhelp Hotline Director Michelle Fingerman said. "To do that, we have to connect with youth using the ways they are most likely to reach out for help, in the exact moment they need that help."
Childhelp developed best practices for its new text and chat service through a series of initial pilot programs. The testing phase of the texting platform found it can take – on average – 49 minutes of text messaging to establish the same type of vital information that can be established in mere minutes in a phone call. Analyzing the most effective questions and responses to establish trust and more quickly assess the situation, Childhelp counselors have created new protocols to better and more rapidly serve young people in need.
Early numbers strongly indicate the innovative new Childhelp National Child Abuse Hotline services are working to reach young people who exceedingly prefer text and chat as opposed to phone conversations, even in a crisis. Initial results show that while 90 percent of traditional phone calls to the Childhelp National Child Abuse Hotline are placed by adults seeking help or to report suspected incidents of child abuse, now a full 85 to 90 percent of those using the new text platform are under 18 years old.
This year, Childhelp is celebrating 60 years since former Hollywood actresses Sara O'Meara and Yvonne Fedderson first created the organization to serve young people in need. With over 10 and a half million children served, the founders have been recognized with numerous awards, including nine Nobel Peace Prize nominations.
Created in 1982 as the first toll-free hotline for victims of abuse, the Childhelp National Child Abuse Hotline has serviced more than 2.5 million calls over the last two decades. Trained counselors from the hotline are available 24/7 to respond to any calls related to reporting abuse, abuse indicators and signs, and local resources for families and victims. The top three categories of callers to the hotline are family members of victims, community members – neighbors, healthcare works, teachers and social service workers – and the victims themselves.
The new text and online chat services are made possible thanks to an innovative new private-public partnership and a $2 million grant from the U.S. Department of Health and Human Services' Administration for Children. The grant will help Childhelp elevate its services and capitalize on new technologies to reach youth and deliver services where they are needed most. The grant will also allow Childhelp to study the service alongside Arizona State University's Southwest Interdisciplinary Research Center to improve the future of the hotline and set the standard for other hotline servicers across the globe.
In addition to tracking demographics, the grant will allow Childhelp to establish an advisory committee and create focus groups with youth as well as other national hotlines.
"We want to set the standard for the hotline industry and make it as easy as possible for anyone to say something when they see something," Fingerman said.
"Throughout our decades of service to children, we have always believed our work is never done until the silent epidemic in this country of five children dying every day from abuse has fully ended," Childhelp Co-Founder, Chairman and CEO Sara O'Meara said. Childhelp Co-Founder, President and Vice-Chairman Yvonne Fedderson added, "Until then, we will continue to work tirelessly to empower and provide new hope to children, showing them that they're worthy of love despite whatever circumstance they are currently experiencing."
"Childhelp's wide array of national programs prove that the right combination of effective treatment and prevention can break the vicious cycle of abuse that often repeats from generation to generation," notes Childhelp National Spokesperson and Vice President of Public Affairs Rebecca Cooper. "In addition to the Hotline, we are also committed to continuing to grow the lifesaving services we provide through our residential treatment programs, children's advocacy centers, therapeutic foster care, group homes, prevention education and advocacy efforts."
In working with Childhelp to bring a spotlight to the new hotline services, beloved actor John Stamos accepted the role as Childhelp National Child Abuse Hotline Spokersperson. "I've had an affinity toward children since early on," Stamos, who has been involved with Childhelp for more than three decades, told E! News in an interview announcing his role as spokesman last November. "I might as well do something good with it."
###
About Childhelp®: Since 1959, Childhelp® has brought the light of hope and healing into the lives of countless children as a leading national nonprofit organization dedicated to helping at-risk, abused and neglected children. Childhelp's programs and services include residential treatment services, children's advocacy centers, therapeutic foster care, group homes and child abuse prevention, education and training. For more information, visit www.childhelp.org.
About the Childhelp National Child Abuse Hotline: The Childhelp National Child Abuse Hotline (1-800-4-A-CHILD) is dedicated to the prevention and intervention of child abuse. Serving the U.S. and Canada, the hotline is staffed 24 hours a day, 7 days a week with professional crisis counselors who—through interpreters—provide assistance in over 170 languages. The hotline offers crisis intervention, information, and referrals to thousands of emergency, social service, and support resources. All calls are confidential.