Childhelp Children's Center of Arizona
Childhelp Children's Center of Arizona

The Program at a Glance

Program Statistics, Fiscal Year 2013

Key Staff

Childhelp Children's Center Wish List

Contact
---
Childhelp Children's Center of Arizona
Since 1998, the Childhelp Children's Center of Arizona has served abused and neglected children by providing treatment, intervention and investigation services. Cheerful colors, teddy bears, toys and child-friendly paintings line the walls of the fully accredited advocacy center, enhancing each child's sense of safety and well-being.
The goal of the center is to provide medical treatment, mental health therapy, efficient investigational resources, and victim support services to address the immediate safety and complete well-being of children referred to the center.
When Abuse Happens
Before children's advocacy centers, child victims were forced to relive their abuse by telling their story to one official after another.
At the Childhelp Children's Center of Arizona, a specially-trained forensic interviewer meets with each child, asking age appropriate, non-leading questions to allow abused children to share their story in a way to withstand court scrutiny, aid in the prosecution of abusers, and minimize additional trauma to the victim. As part of this process, children also may receive a specialized medical exam to gather evidence of physical and/or sexual assault.
Services provided at the center support safe placement of abused children and court preparation assistance for victims. As an outpatient clinic with licensed counselors and licensed clinical director, abused children and non-offending family members receive individual and family counseling/therapy.
The Childhelp Children's Center of Arizona responds to the overwhelming needs of abused children with community partners: Phoenix Police Department, the Office of Child Welfare Investigations, Phoenix Children's Hospital, Maricopa County Attorney's Office, and the Arizona Attorney General's Office. With a caring focus, the partnership is a high profile, high volume and highly successful example of professional integration and coordination of treatment, intervention, and investigation services.
Enrichment Programs
Each child who receives services at the Childhelp Children's Center for the first time will receive a new toy or other gift.
Community Training – specific training for local children's charities and ASU School of Social Work; training provided for mandated reporters regarding legal responsibilities.
Staff recently assisted with the revision of Maricopa County's Joint Investigation Protocol.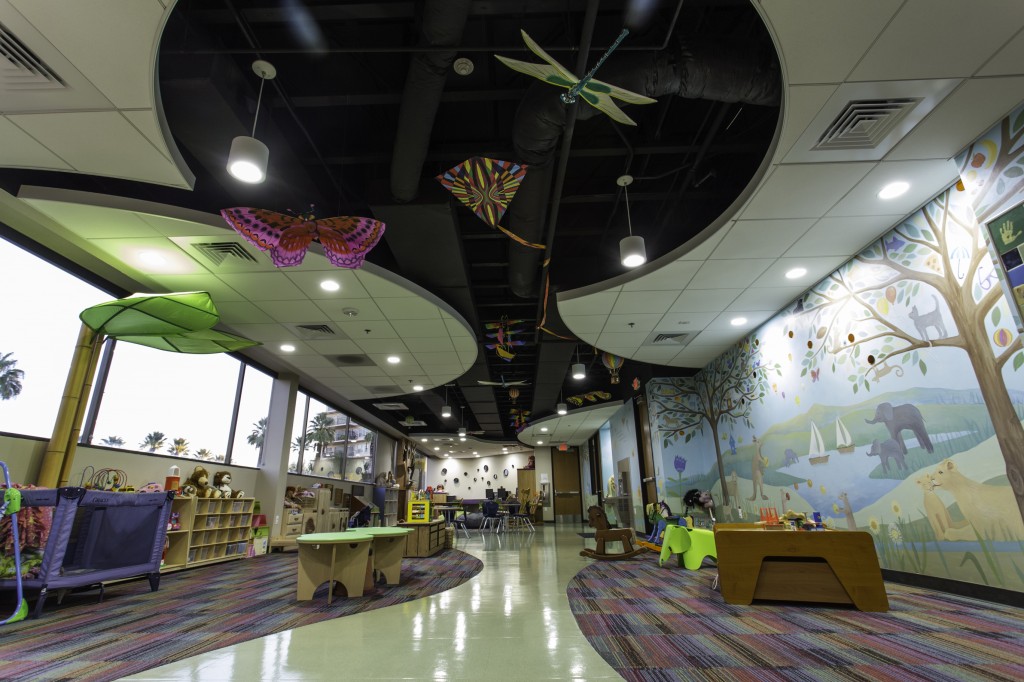 The Playroom at the Children's Center of Arizona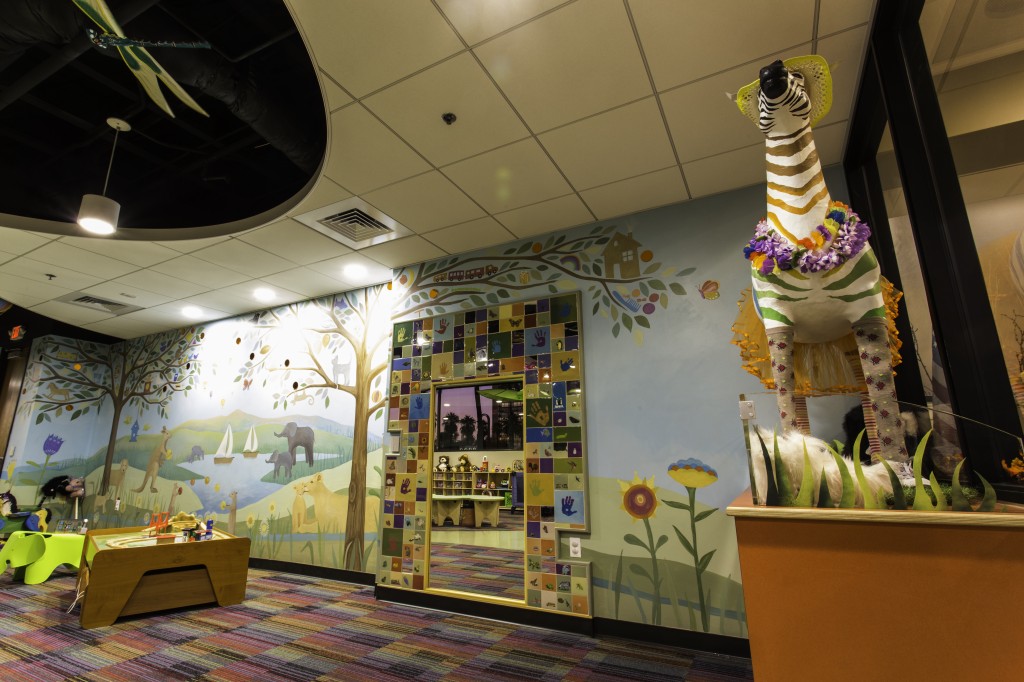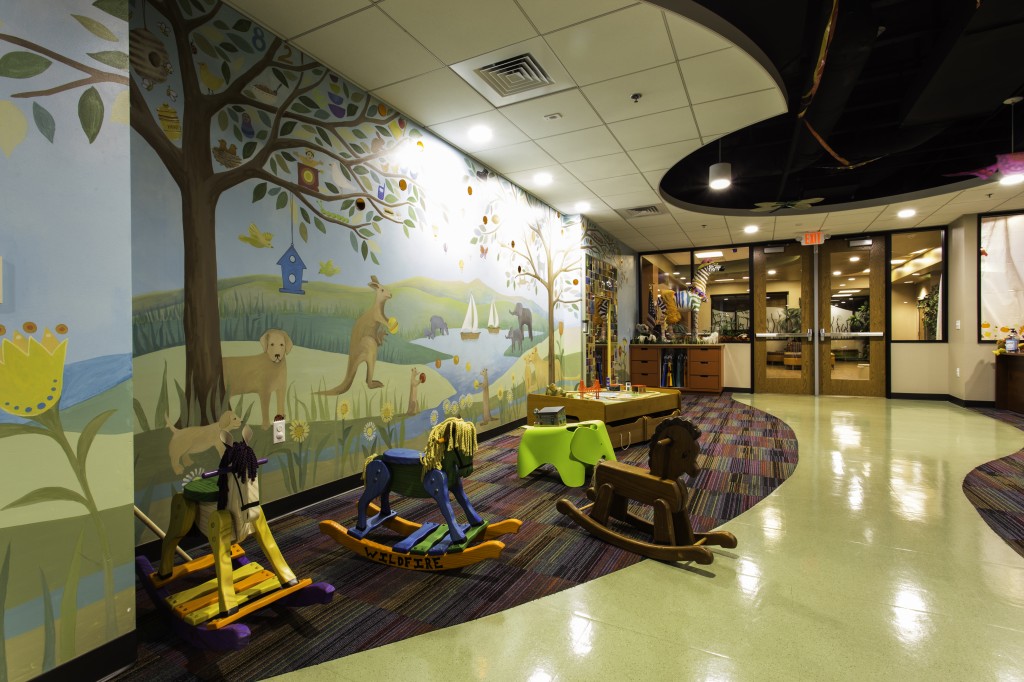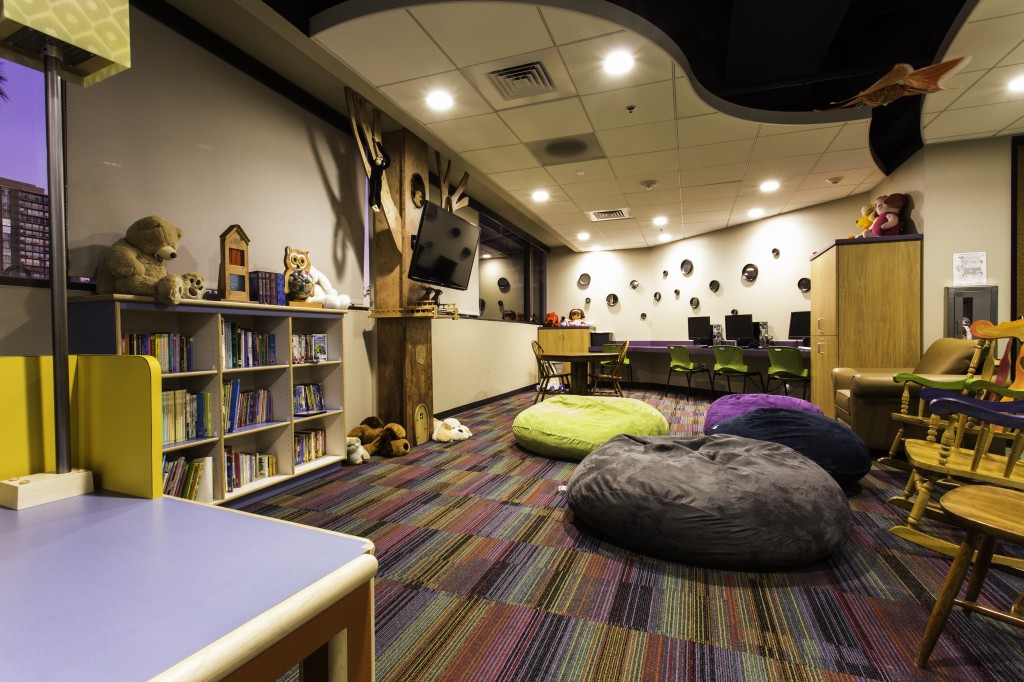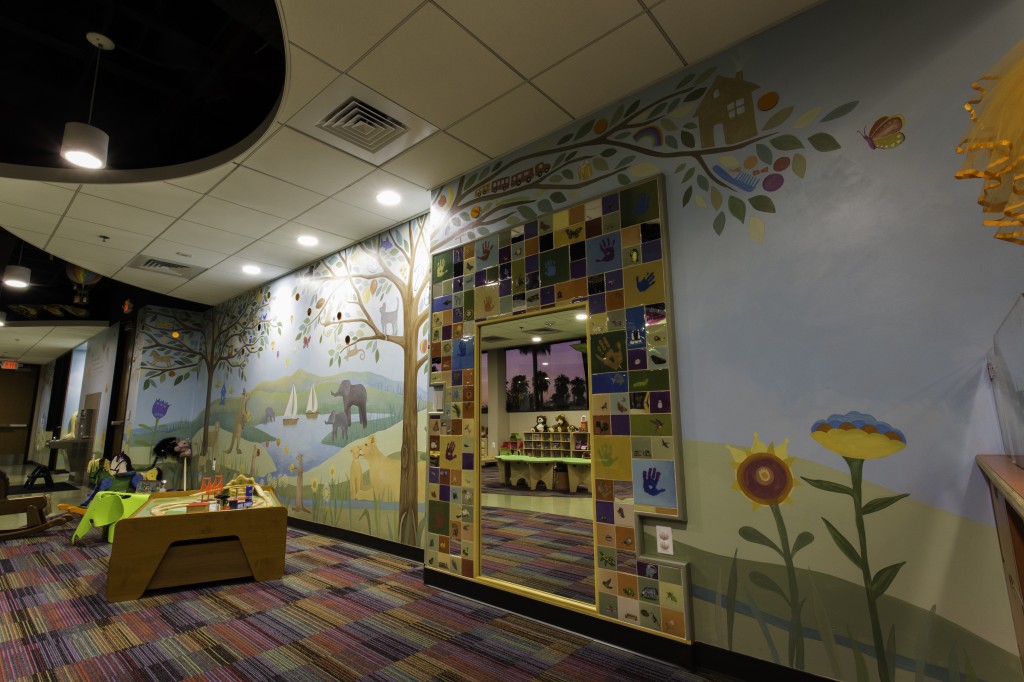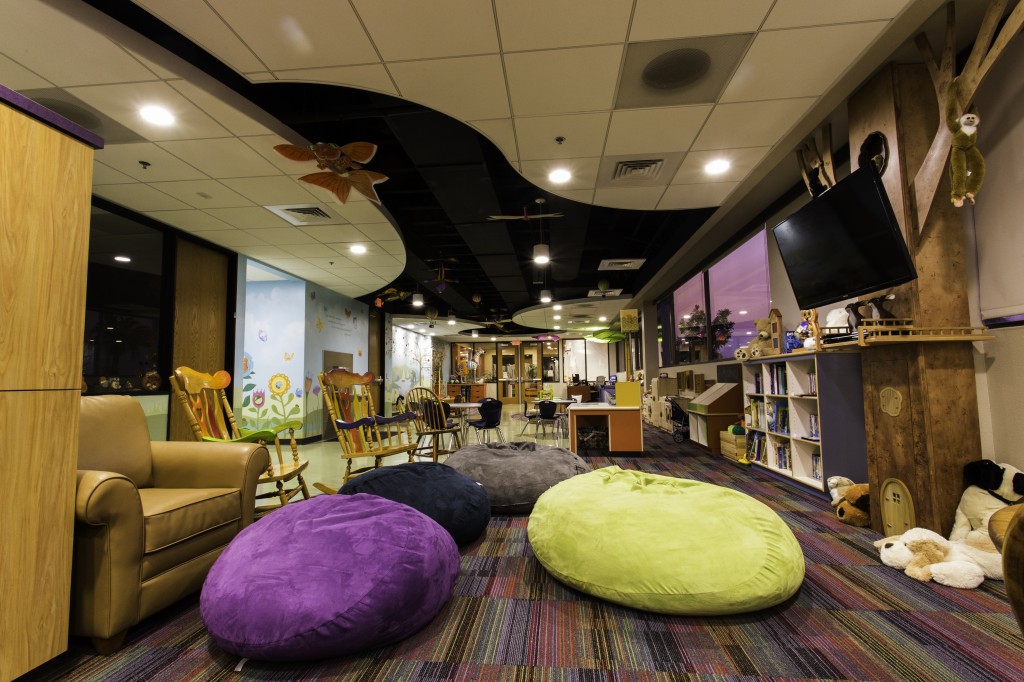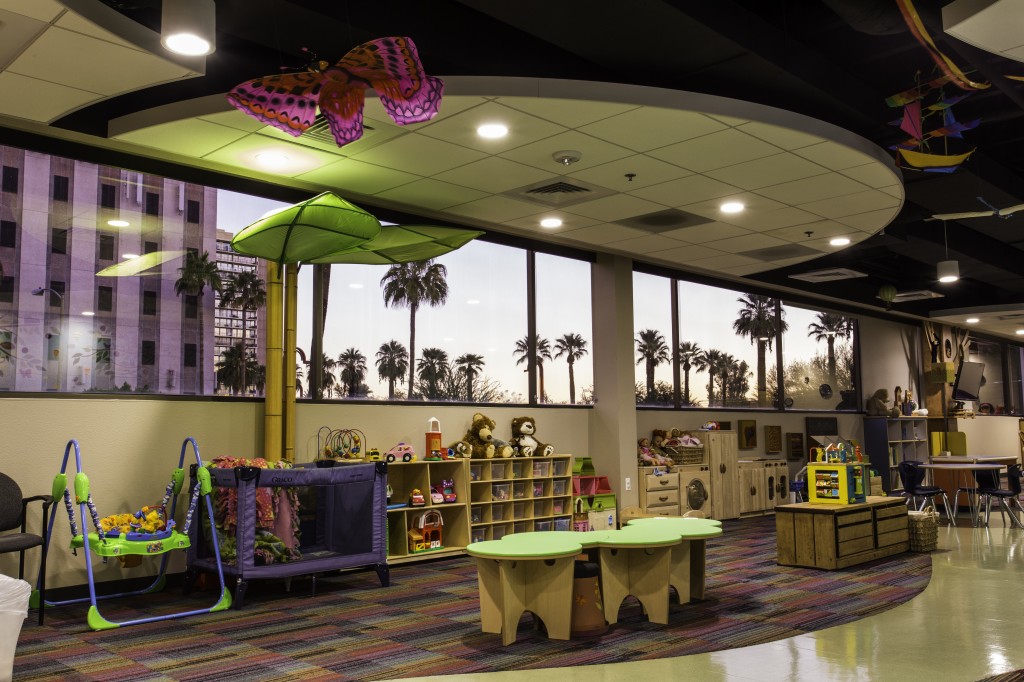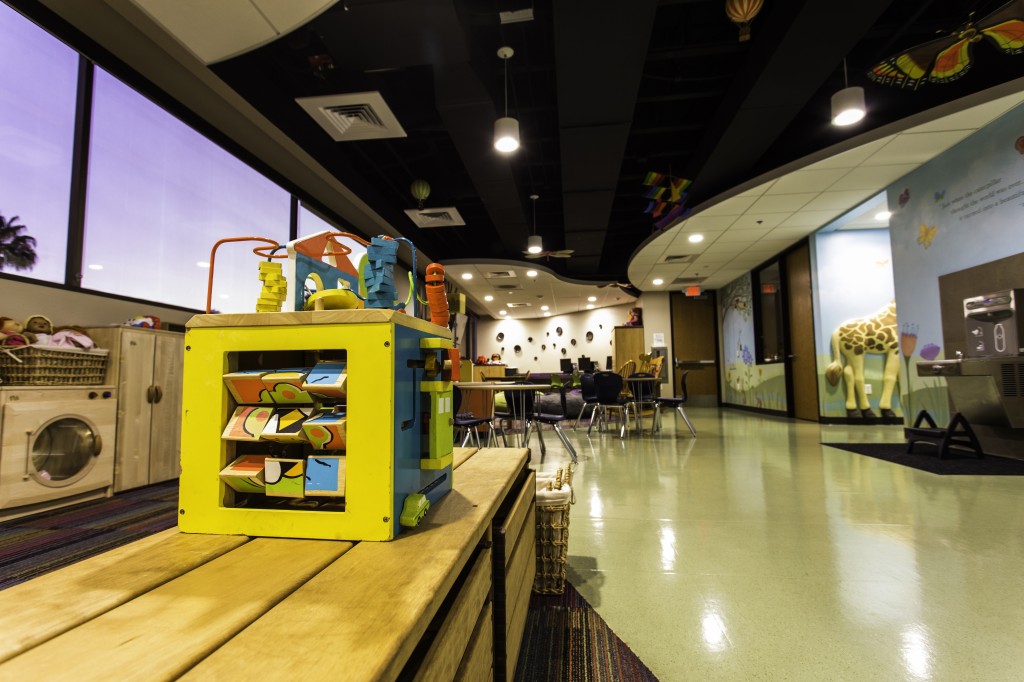 The Program at a Glance
The Childhelp Children's Center of Arizona is a "one-stop" advocacy center that supports the multidisciplinary response to child maltreatment cases.
Childhelp received a five year reaccreditation from the National Children's Alliance in 2008, meeting all standards for child advocacy centers nationally.
All aspects of the facility reflect attention-to-detail, providing a child-friendly environment and atmosphere. A large glass walled playroom, fully equipped with toys and computer games, is available for children and their siblings to use. Trained volunteers supervise the children in the playroom.
The center was showcased in the U.S. Department of Justice's 1999 video of "best practice" facilities serving victims of crime. As a "best practice" agency, it continues to serve as a model for advocacy centers nationwide.
Program Statistics, Fiscal Year 2013
173

Crisis intervention services

6,003

Specialized mental health therapy sessions

282

Referral services

398

Victim advocate support services

41

Other assistance

6,897

Total services provided
Key Staff
Maureen Basenberg, MPA, Program Director
Kristi Murphy, LCSW, Clinical Director
Additional Staff
(Childhelp staff only)
1 Family/Victim Advocates
2 Forensic Interviewers
11 Therapists*
* Two therapists under the auspices of the Childhelp Children's Center of Arizona provide services at the Southwest Valley Advocacy Center in Goodyear
Childhelp Children's Center Wish List
These are just a few suggestions of the toys that the center needs. We do accept items that are not on this list, please check with the center before sending. We do not accept toy guns of any kind. Donations can be dropped off during business hours Monday-Friday, 8am to 5pm at the Childhelp Children's Center located at 2120 N. Central Ave. Suite 130 Phoenix, AZ 85004.
Contact
2120 North Central Avenue, Suite 130
Phoenix, AZ 85004
T 602-271-4500
F 602-282-0102
For General Questions and Inquiries, please fill out the contact form below.