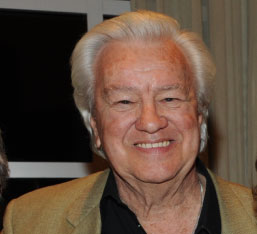 Ron Masak
Actor
Ron Masak trained in the Classics at CCC in Chicago, Ron has proven himself equally at home on stage or on screen with Shakespeare or Slapstick. During the course of his career, Ron has starred in 25 feature films and guest starred in some 350 television shows.
His first TV role was on an episode of The Twilight Zone. He has also appeared on Bewitched, Land of the Lost, Magnum P.I., and is best known for his role as Sheriff Mort Metzger on Murder, She Wrote. Ron has also been dubbed the "King of Commercials" for his voice-over work and recently published a book called I've Met All My Heros From A-Z.
Ron Masak has been involved with Childhelp for more than 30 years and has hosted numerous golf tournaments on our behalf. Ron has participated in the Childhelp National Day of Hope, and attended numerous other events to support fundraising efforts for our kids.