Looking back on National Child Abuse Prevention Month and Childhelp National Day of Hope
Prologue
The first National Child Abuse Prevention Month was in 1979.
A new decade was about to begin — one that would be marked by incredible strides in child welfare. It was a watershed time in the stand for safer children, and Childhelp was part of the ongoing national and international response to child maltreatment.
While the history of modern child welfare stretches into the 19th century, the system as we know it today began to emerge in the early 1960s. Not only did recent research into "The Battered-Child Syndrome" bring the issue to science and the public, but the Public Welfare Amendments of 1962 provided federal funds to states for children in foster care and nurtured development of Child Protective Services.
More than a decade later, President Richard Nixon signed the Child Abuse Prevention and Treatment Act in 1974. CAPTA provided funding to improve state response to abuse and neglect of children, and it came to play a significant role in shaping child protection nationwide — a role it still plays today.
An Era of New Beginnings
Childhelp Founders Sara O'Meara and Yvonne Fedderson encouraged the President to create a special month drawing attention to America's abused children and after nearly two years in office, President Jimmy Carter proclaimed the first National Child Abuse Prevention Month. In that time, CAPTA was amended with the Adoption Opportunities Program in 1978, and the Indian Child Welfare Act was enacted in 1978 as well.
Soon, American children would have a nationwide system of government-sponsored child protection, and all states would have laws requiring professionals to report abuse, but there was — and is — far more work to be done.
Village for Healing
1978 also marked the year Children's Village USA opened in Beaumont, Calif. Under the leadership of Sara O'Meara and Yvonne Fedderson, the village was a project of International Orphans, Inc. (now Childhelp), which already boasted nearly two decades of work abroad helping Amerasian orphans in Japan and Vietnam.
The aim of the new facility in Southern California was to help survivors of abuse and neglect heal, with therapy and structure in a safe, serene place to call home. But it also would serve as a home base for national advocacy and international activity to protect children.
First National Child Abuse Prevention Month
It was in that historical context at the end of 1979 that President Carter proclaimed:
America's children are our most precious resource, and in this final month of the International Year of the Child I urge all Americans to consider what they can do to prevent child abuse and neglect.

…

Our Nation's children are our Nation's future. We all share in the responsibility for making sure they grow up in a healthful environment. I appeal to public agencies, private organizations and the business community to support needed social, educational and health services in their communities to strengthen families during the critical child-rearing years.

Working together, with sensitivity and concern, we can reduce the incidence and lifelong damage of child abuse.

Now, Therefore, I, Jimmy Carter, President of the United States of America, do hereby proclaim the month of December, 1979, as National Child Abuse Prevention Month.
Luncheon of Champions … for Children
There were many voices uplifted for child safety and many hands at work for the love of a child when Carter announced the first National Child Abuse Prevention Month.
Two months after his proclamation, on January 25, 1980, President Carter invited a delegation of those child welfare advocates to the White House. Among them were O'Meara and Fedderson. They were joined by the chairperson of the National Alliance for the Prevention and Treatment of Child Abuse, film star Sophia Loren, and vice-cochairs of NAPTCA, Speaker of the House Tip O'Neill and his wife, Mildred. 
"We need help, a lot of help, to awaken the world's consciousness to this sordid and persistent crime." — Sophia Loren
Later that year, President Carter signed into law the 1980 Adoption Assistance and Child Welfare Act, laying the groundwork for a focus on permanency and family preservation, which remain important priorities of the child welfare system today. But there wouldn't be another National Child Abuse Prevention Month until a new president.
National Response for Prevention
National Child Abuse Prevention Week
The early years of the 1980s marked rapid progress in the child welfare system, with improved information sharing and data measurement. As groups like Children's Village USA worked with governments and the public to move abuse further out of the shadows, reports increased and the number of children getting help began to grow too.
In that context, the U.S. Senate and House of Representatives resolved that the week of June 6-12, 1982, should be designated as the first National Child Abuse Prevention Week, and President Ronald Reagan agreed:
… If parents can get help in coping with the pressures in their lives and if communities support preventive programs to assist parents and others responsible for the care of their children, young lives can be saved and suffering prevented.

The health and well-being of our children is and must continue to be one of our Nation's highest priorities. …

Now, Therefore, I, Ronald Reagan, President of the United States of America, do hereby designate the week of June 6 through June 12, 1982, as "National Child Abuse Prevention Week." I urge all citizens to renew our Nation's commitment to meet the serious challenge which child abuse and child neglect pose to the welfare of our children and families.
The Childhelp National Child Abuse Hotline
Later in 1982, the first national toll-free hotline to address child abuse and neglect, 1-800-4-A-CHILD, was implemented by Children's Village USA.
The addition of the hotline was a huge step forward for the Children's Village USA, as it gave the organization the ability to help children across the country, and as its programs and services expanded, Children's Village USA's changed its name to Childhelp.
The hotline still operates as Childhelp National Child Abuse Hotline, 24 hours a day, seven days a week and offers a wide variety of support resources from professional crisis counselors, and it provides services over text and online chat at childhelp.org.
National Child Abuse Prevention Month: A Legacy in Action
Then in 1983, President Reagan proclaimed April as National Child Abuse Prevention Month.
… Children may be endangered by physical battering, denial of the basic necessities for life and health, sexual abuse and exploitation, or emotional cruelty. Public concern can help prevent maltreatment and help protect children. Action taken after cruelty has occurred is often too late. Prevention of abuse requires that neighborhoods and communities be attentive to the problems of families in their midst and be willing to help when help is needed. It requires the active concern of educational, medical, mental health, law enforcement, and social service professionals, and the efforts of volunteers and private citizens.

…

Now, Therefore, I, Ronald Reagan, President of the United States of America, do hereby proclaim the month of April 1983 as "National Child Abuse Prevention Month." I urge all citizens to renew our Nation's commitment to meet the serious challenge that child abuse and child neglect pose to the welfare of our children and families.
Each April ever since, child abuse and neglect awareness activities have been promoted across the country all April long with advertisements, publications and informational campaigns. Toward the end of the decade, the success of National Child Abuse Prevention Month helped inspire the first National Foster Care Month too: May, 1988.
During 'Crime Victims Week' of that Child Abuse Prevention Month, President Reagan honored Childhelp Founder Sara O'Meara with a Department of Justice award as "a dynamic and influential source of aid to child victims of crime, and an outstanding leader in her profession."
Studies, Systems, Symbols for Survivors
Blue Ribbons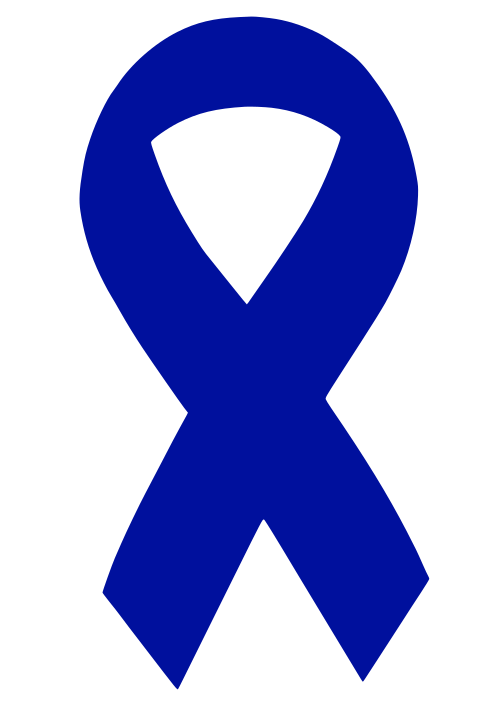 In the spring of 1989, Bonnie Finney of Virginia lost her three-year-old grandson, Michael Dickenson, at the hands of her daughter's abusive boyfriend. The grieving grandmother tied a blue ribbon to her car reflecting the blue of the child's bruises.
The blue ribbon has become a symbol of child abuse awareness, and many wear the ribbons in April in memory of children who have died as a result of abuse and in celebration of the lives of survivors of child abuse.
Childhelp in the 90s
A few years later, in 1993, Childhelp opened Alice C. Tyler Village of Childhelp East in Lignum, Virginia, to provide services similar to those offered in its Beaumont village in California.
Throughout the 1990s, federal child welfare legislation focused on providing equitable and speedy services to every child, with a continued emphasis on preserving, supporting, and reunifying families. President Clinton proclaimed November, 1995, as the first National Adoption Month, an observance that is recognized to this day.
At Childhelp, the mid-90s were a time of growth and change, with the Childhelp Children's Center of East Tennessee opening in Knoxville, Tenn. Soon, in 1996, the organization would move its headquarters from southern California to Scottsdale, Ariz. That same year in neighboring Phoenix, Childhelp opened the Childhelp Children's Center of Arizona, where a multidisciplinary team of responding agencies including Childhelp provide needed forensic and therapeutic services to victims of child abuse in the growing hub of the American Southwest.
Adverse Childhood Experiences
As the 90s drew to a close, a body of research emerged around the landmark Adverse Childhood Experiences Study (ACE Study) conducted by Kaiser Permanente and the Centers for Disease Control and Prevention.
Conclusions: We found a strong graded relationship between the breadth of exposure to abuse or household dysfunction during childhood and multiple risk factors for several of the leading causes of death in adults.
The groundbreaking study with thousands of participants looked into the correlation between long-term health outcomes and the experience of traumatic childhood experiences. It provides strong evidence of what practitioners long suspected about long-term impacts of abuse and neglect.
The study has since been replicated and expanded upon, with outcomes informing the public about the importance of preventing childhood trauma, and helping healthcare practitioners better understand the role of patients' past on health future.
Where child maltreatment had been understood as a family issue, a criminal issue, and then a societal issue, it was becoming increasingly understood in the context of public health. 
Childhelp National Day of Hope
In 2000, The U.S. House of Representatives passed House Concurrent Resolution 76 with a unanimous vote, supporting the Childhelp National Day of Hope.
The National Day of Hope is observed the first Wednesday in April as a day to take time in prayer with a moment of silence to remember the children who have died from abuse and neglect. Recently, the Children's Bureau estimated there were 1,840 child maltreatment fatalities nationwide in 2019, the highest number since they started counting — more than five children every day.
In honor of these children, Childhelp encourages lighting five candles or a candle of five wicks, one for each child who dies in a day from abuse and neglect. Celebrity anchors such as Kathie Lee Gifford, Nancy Grace, and Megyn Kelly have all taken part on air to spread this message of healing and hope.
Since the inception of Childhelp National Day of Hope, Childhelp has held an event on Capitol Hill during the month of April to meet with Senators and Representatives to thank them for their work in child welfare and let them know about Childhelp's successful programs and the most vulnerable children they serve.
Among legislation backed by Childhelp through this event was the establishment of a national registry that will follow child abusers from state to state. That law was enacted by President George W. Bush under the Adam Walsh Child Protection and Safety Act of 2006.
Blue Pinwheels
In 2008, Prevent Child Abuse America introduced the blue pinwheel as a symbol for child abuse prevention. PCAA says the pinwheels "represent childlike whimsy and lightheartedness and our vision for a world where all children grow up happy, healthy, and prepared to succeed in supportive families and communities."
Today, the blue pinwheel is found one at a time as a desk or car ornamentation or 'planted' in large public displays as "pinwheel gardens" near child advocacy centers, government buildings and hospitals.
Governor's Resolution to Eradicate Child Abuse
In 2009, its 50th anniversary year, Childhelp sponsored a national "End Child Abuse Now" bus tour. The organization and its founders were recognized at the 17th National Conference on Child Abuse and Neglect and traveled state to state to gather the signatures of every governor on the Childhelp Governors' Resolution to Eradicate Child Abuse.
By April of 2010, each governor of all 50 states had signed the historic document committing themselves and their states to do everything in their power to eliminate child abuse.
Preventing Child Abuse Today
Childhelp Hotline Expansion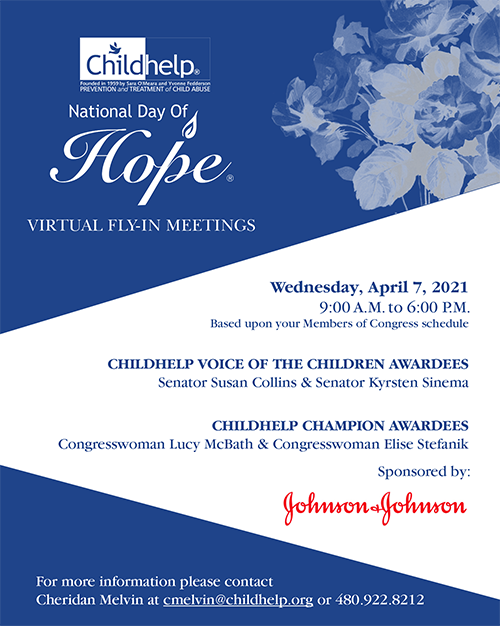 With the help of an innovation grant from the Department of Health and Human Services in 2018 the Childhelp National Child Abuse Hotline was able to pilot expanded hotline services to include text and online chat.
The new methods of communication put more youth in touch with Childhelp counselors almost immediately, and the program and its outreach was expanded with the possibility of long-term supports and ongoing sponsorship from private donors.
2021 National Child Abuse Prevention Month
Today, we stand at a junction where impactful legislation and programs exists but are not empowered by necessary levels of funding.
In the case of federal legislation, when new governments are elected, bills previously in progress need to be re-introduced for consideration. In order for programs to continue and for child protection legislation to be effective, we must stand together on critical legislation and speak with one voice so that Congress will take action in a meaningful direction to address these important issues.
Your heart and voice can be their hope! On the nationally designated date of Childhelp National Day of Hope, April 7, there are several important issues Childhelp looks to promote with legislators – and we invite you to join us for our virtual fly-in to Capitol Hill!
We join the U.S. Children's Bureau in inviting you to spread the word about National Child Abuse Prevention Month. At their site there are outreach toolkits, publications and resources that can help every American better understand the issue of child abuse, help survivors and prevent maltreatment in their community.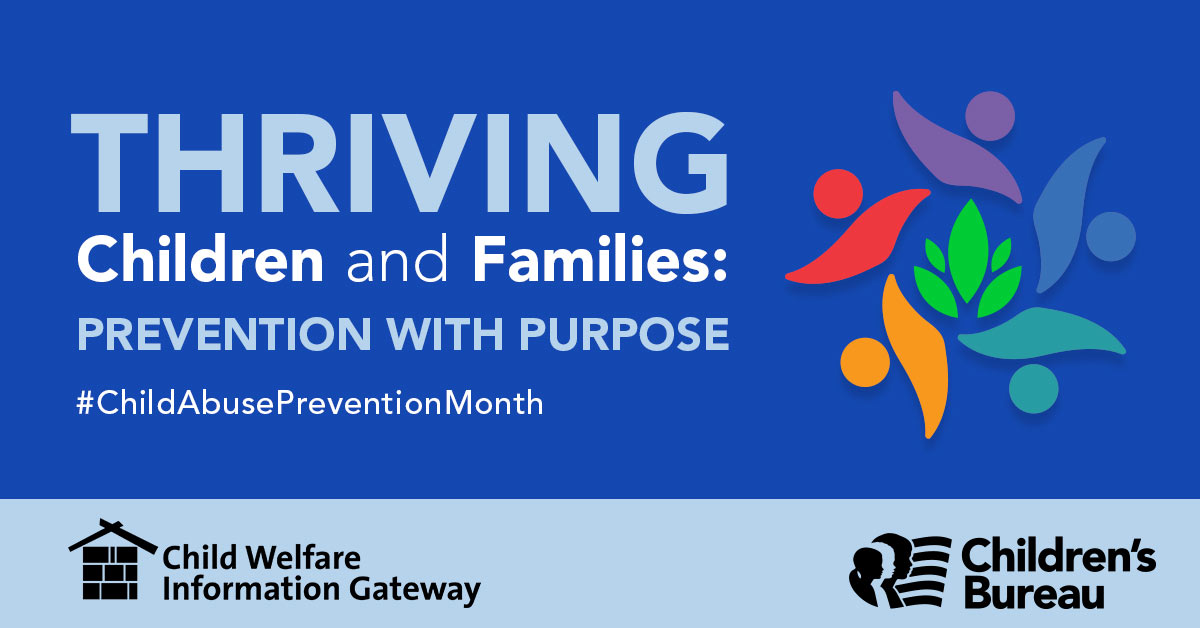 ---
Sources:
---
Childhelp exists to meet the physical, emotional, educational and spiritual needs of abused, neglected and at-risk children. We focus our efforts on advocacy, intervention, treatment, prevention, family resilience and community outreach.