How the Childhelp Children's Center of Tennessee Combats Child Sexual Abuse
Grandfathers are supposed to teach children about life, tell stories and the only secret they keep with their grandchildren is maybe allowing a scoop of ice cream before dinner. Lena's* grandfather seemed that way on the surface.
He was thought of as a good man, working as a missionary abroad with his wife and dedicating time to orphaned children, youth education and boys and girls living in poverty. When the coronavirus became a global pandemic, his work was cut short, and he returned to America to stay with his adult daughter and her children. Within a short time, he began to groom Lena with extra attention, treats and presents. "This game is our secret." He was grooming her to be his victim of child sexual abuse.
Dr. Rosenna Bakari, Professor of Psychology and child sexual abuse survivor writes, "The number one place that children should know they are safe is in their homes. As it stands, as long as violators keep sexual abuse within the family, the chances of repercussion by anyone is pretty low. Wives won't leave violating husbands, mothers won't kick their violating children out of the home, and violating grandparents still get invited to holiday dinners. It is time to start cleaning house. If we stop incest first, then we will strengthen our cause against all sexual abuse."
"It is time to start cleaning house. If we stop incest first, then we will strengthen our cause against all sexual abuse."
Cycles of abuse are common in families where children are at risk. Lena's mother had been molested by the same man when she was younger. Like some victims, she had repressed dark memories, thought it was her fault and knew she would not be believed. She never imagined her father would attack her own child.
Lena was too young to understand what was happening, but she knew it wasn't right. She was so afraid to tell anyone, even when her grandfather hurt her. She promised Grandpa not to tell their secret.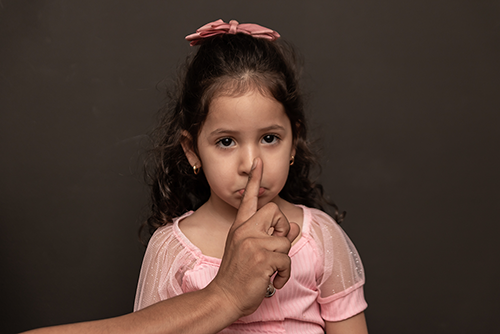 When her mother noticed Lena starting to become more quiet, withdrawn and sad, she asked, "Are you OK?" Lena would just nod. Her mother started to notice that Lena would become shaky and anxious when her grandfather walked into a room, even if he was smiling and bringing a new toy.
When Lena's mother asked, "Is Grandpa asking you to keep a secret?" Lena could just look down.
It was time to get help; maybe this time someone would believe both of them.
When Lena stepped under the sign reading "All Who Enter Here Will Find Love" at the Childhelp Children's Center of Tennessee, she met with a Forensic Interviewer. Like many children who have been harmed by someone they love, she was terrified to talk and kept asking if her grandfather would be in trouble.
Kenneth Bender, Executive Director of Tennessee Programs, shared how the multidisciplinary team rallied to support a frightened little girl and put a predator behind bars, "After the Forensic Interview, Childhelp, Law Enforcement, DCS, and the State Attorney's office completed a one-party consent phone call with the child's father and the grandfather utilizing information disclosed in the Forensic Interview and was able to get a confession from the grandfather."
Lena's grandfather was arrested for Aggravated Sexual Battery and Rape of a Child, and Lena's process of healing has just begun. She will get stronger, and her family will become more resilient with a network of compassionate hearts helping them mend. Because of her brave voice, Lena saved herself, broke a family cycle of abuse and made sure her grandfather will never be able to hurt another child.
*Names/details of children are changed to protect the privacy and identities of children and families healing in our programs and services.