Published: Feb 7, 2017
2017 federal report indicated more child maltreatment fatalities than ever, but are kids less safe?
Between 2015 and 2016, there was approximately a seven percent increase in fatalities tied to child maltreatment, according to the U.S. Department of Health & Human Services' (DHS) the 27th edition of the Child Maltreatment report, released earlier this year.
The annual report from the Administration on Children Youth and Families' Children's Bureau presents information from state child welfare agencies gathered by the Administration for Children, Youth and Families (ACYF) through the National Child Abuse and Neglect Data System (NCANDS). The latest estimate of 1,750 maltreatment deaths in 2016 reflects the highest number recorded in a single year since the report began in 1992.
Though more children who died because of abuse or neglect were identified in 2016 than any previous year, many child maltreatment deaths still never come to the attention of child protective services. In its final report, published in 2016, the federal Commission to Eliminate Child Abuse and Neglect Fatalities points out that "Some researchers estimate that the actual number is more than double the NCANDS total, but at least 3,000 children per year."
Reports
ACYF estimates there were around 4.1 million referrals to CPS in 2016, a number that has consistently climbed over time. Of those referrals, involving around 7.4 million children, almost three-fifths (58.0%) were screened in to become reports.
It is important to note that the differentiation between a referral and report is subject to how the reporting state handles communication to child protection authorities. Some states do not record data for calls if they do not warrant a report, some handle every call as a report and/or provide an "alternative response" or "differential response" to low-risk cases.
Historically, legal and law enforcement personnel have accounted for the plurality of reports made, followed closely by education personnel. However, the last two years, education personnel provided the most reports (18.9%) out of any group, presumably reflecting the success of mandatory reporting laws and mandatory reporter training nationwide —and the incredible work of communities of learners devoted to protecting children from harm.
Education personnel, law enforcement personnel and other professionals — a group that also includes social services personnel, medical personnel, mental health personnel, daycare providers and foster care providers — are the source of a significant majority of child abuse reports year after year, with education professionals making more reports in 2015 than alleged victims, alleged perpetrators, parents, relatives, friends, and neighbors combined.
Response times vary considerably from state to state and year to year based on which states report the data and how it is measured. Further, high-priority cases warrant a swifter response than those where there is lower risk, but nationally, it takes CPS around 39 hours to initiate a response to a report.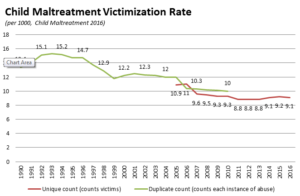 Child Maltreatment Victims
There were around 4.2 million children involved in an investigation or alternative response during 2016. Of these, a little more than 17% were identified as victims, and the rest were classified as nonvictims, including 13.9% of whom that received an alternative response.
The child maltreatment victimization rate in 2016 was stood slightly above 9 victims per 1000 children (9.1), about where it has fluctuated since 2009. That figure represents around 676,000 victims nationwide and includes child maltreatment deaths.
As has been the case in previous years, girls in 2016 were somewhat more likely to be identified as victims of maltreatment (rate per 1000: Boys, 8.7; Girls, 9.7); and significant racial differences persisted in 2015, in line with previous years (rate per 1000: Asian, 1.6; White, 8.1; Pacific Islander, 8.6; Multiple, 11.2; Native American, 14.2; African American, 13.9).
Likewise, as has been the case in previous years, victimization rates were highest among infants and toddlers (24.8 per 1000 for children under one, 11.9 at one, 11.2 at two), declining through childhood, before levelling out around age 13 to 14 (reflecting the frequency of child sexual abuse against adolescents).
The report also outlines types of maltreatment faced by victims, with almost three-fourths (74.8%) of victims facing neglect, and around 12% of victims facing neglect and other forms of maltreatment together.
In surveys taken later in life, individuals recall much more abuse than NCANDS data presents, but the constraint of the Child Maltreatment report and NCANDS data is that it only presents what CPS documents. It cannot include victimized children about whom no finding of abuse was made by CPS, and that each state establishes its own policies and practices for child protection. It also does not reflect the number of victims found over time, instead portraying a snapshot of a single year's victims. That is, a new victim remains a victim for his or her whole life, but the child maltreatment victimization rate only represents findings of abuse or neglect in a single year. By age 18, around one in eight children will have been found a victim of maltreatment by CPS at some point in their life.

Child Maltreatment Fatalities
One of Childhelp's goals is to protect the five children who die each day because of abuse and neglect: #FiveTooMany
That approximation of daily child maltreatment fatalities is based on information provided to NCANDS as reflected in the Child Maltreatment report. In 2016 there were an estimated 1,750 child abuse and neglect fatalities (~4.79 per day), an annual rate of 2.36 per 100,000 children — the highest ever.
Digging deeper into the child maltreatment fatalities identified in 2016, finds long-term impacts of changes made under the Child and Family Services Improvement Act, which passed in 2011. This law strengthened the role of child death review boards, and called for investigations of all unexplained infant deaths.
Further, many of the child abuse deaths identified in 2016 actually happened in 2015, 2014 or earlier, and in a few states like Indiana, which identified twice as many children who died from abuse and neglect than the year prior, and Texas, which documented 217 child maltreatment fatalities.
Despite the rising number, experts warn that is only part of the story.
In 2016, the Commission to Eliminate Child Abuse and Neglect Fatalities released its final report on the subject. The report accurately notes the lack of a standard, mandated reporting system for child abuse and neglect deaths from state to state.
"We know that the number of fatalities is higher than reported by NCANDS," the Commission explained in its ultimate report, "Some researchers estimate that the actual number is more than double the NCANDS total, but at least 3,000 children per year."
Nevertheless, data on child maltreatment fatalities presented in the Child Maltreatment report and in NCANDS remain an important source to understand the intersection of child welfare systems and fatalities that spring from their shortcomings. We could just as easily say #EightTooMany … and the point would remain: Too many children die because of abuse and neglect.
Child Maltreatment Perpetrators
The report also presents the relationship between the child victim and the maltreatment perpetrator(s).
The profile of a child abuse perpetrator according to child protection authorities in 2016 is similar to previous years. While there is no single relationship or marker that defines a child maltreatment perpetrator, the people who spend the most time alone in the closest proximity to children are overwhelmingly most likely to abuse them: their parents. One parent, the other or both were perpetrators 91.4% of the time.  This pattern is reflected across ages, and racial demographics closely mirror the racial demographics of victims as well.
Services
Child welfare systems do more than identify victims and document abuse. They respond to instances of abuse and families need, as well as offer prevention services within communities.
There was a decline in the estimated number of children nationwide who received prevention services from FFY2015 to FFY2016 (from 2.3 million to 1.9 million). These programs are administered on state and local levels with funding made available from the federal government through provisions of the Child Abuse and Prevention Act (CAPTA) and the Social Security Act.
One of the most significant post-response services is foster care. In 2016, 148,262 victims, (22.6% of them) and 59,716 non-victims (1.9% of them) received foster care. The report explains that non-victims are often put in foster care if another child, or other children, in the household were in danger — or if a parent voluntarily surrenders a child who wasn't a victim to foster care.
According to state reports, 29.4% of victims had some kind of court action taken in their case. Only about half of states reported on the presence of a Guardian ad Litem (in some jurisdictions called Court Appointed Special Advocates) for victims, and ACFY believes it is likely courts appointed representatives for more than the 22.2% of victims with advocates reported nationally.
NCANDS also looks at family preservation services and family reunification services in the 5 years leading to a maltreatment report. Only about half the states reported this data, but they show around 14.8% of victims received family preservation services in those 5 years, and 5.1% of victims had received reunification services.
Reflecting a 2010 change in CAPTA, NCANDS added a new field in 2012 to track victims eligible for and referred to certain early intervention services through the Individuals with Disabilities Education Act. Only about half the states reported this information, with 67% of eligible victims being referred to such services. IDEA spells out the rights of children who receive special education and provides for special services to prevent abuse against eligible children. Disability is a significant established risk factor for child maltreatment.
Take Away
It is important to understand the Child Maltreatment report in the context of overlapping systems of care and overlapping responses to child maltreatment. These data points reflect the activity of child welfare enforcement, but understanding how to keep children safe also demands a look at what we know apart from "the system." It is not only CPS (or DCFY or DCS or whatever letters your state has given its child welfare authority) who shape safer communities for kids. It happens in schools and community centers, churches and clubs, and it happens mostly in households.
Making a safer future for kids happens right where you are, and it can happen right now.