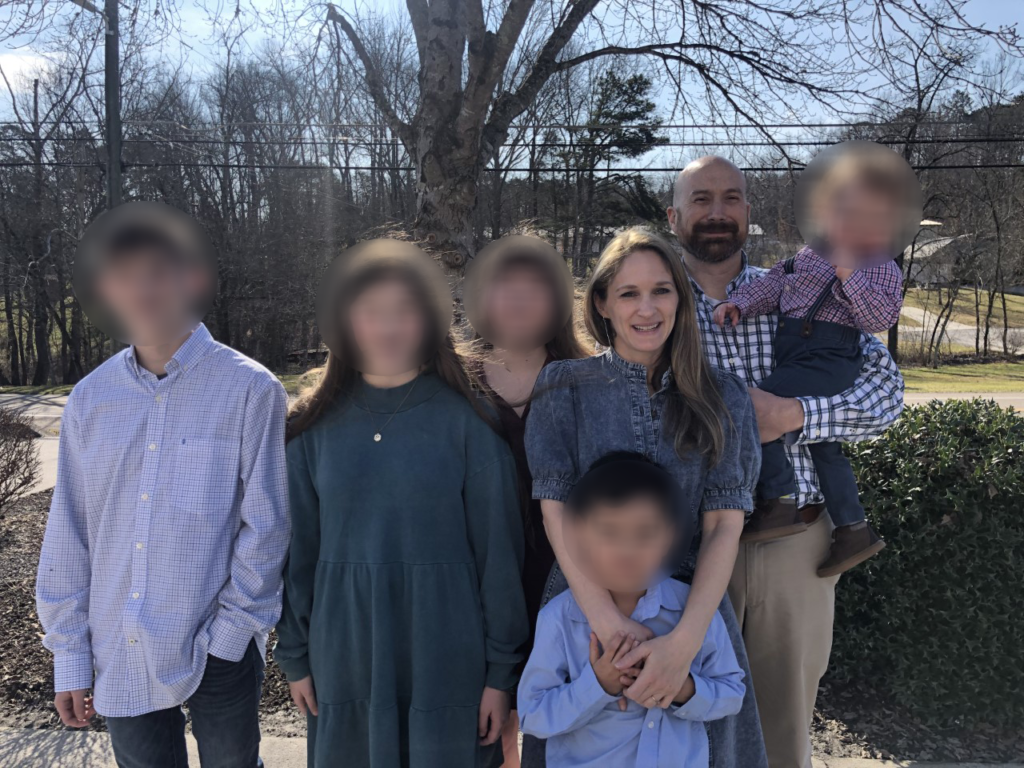 A Calling to Foster and Adopt Through Childhelp Tennessee
"We feel fostering is a calling," says Olivia Womack waiting in a car with little ones squirming, fussing, crying and laughing in the car as mom has to attend to more babies than she has arms. A bottle here, a snack there, a cuddle in between. They are waiting for their big sister to finish her piano lessons and preparing to carpool to the next appointment, event and finally home sweet home.
For some of the Womack's foster children, home kept changing. Brave little hearts in and out of the system are always seeking that sense of security and safety; a place like the Womack house. For their biological and adopted children, home is a forever place filled with love and sometimes new faces that need a second chance at hope.
For Olivia and John Womack, fostering has been part of their parenting lives for many years. They began caring for the children of incarcerated mothers. It is a tough job that involves nurturing children in transition while acting as mentors to mothers in the Jonah's Journey program. Shuttling a swaddling infant in and out of prison probably isn't most people's ideal of motherhood, but speaking with Olivia Womack, one realizes quickly that her "to do" list is always trumped by her openness to children in need and a chance to do some good in the world.
"We adopted baby Elijah through the Jonah's Journey program after we moved to Knoxville in 2016. We joined a church and met several families who were fostering children through Childhelp. We knew that we were in the right place. The Lord told me I needed to prepare to accept a new baby in the house. Then, after our Childhelp training, we got the call about a sibling group."
That's when Memphis showed up, along with his young brother, and the two wild, wonderful and sweet little boys took up residence in the Womack's home. Olivia was really mentally preparing for a baby, but knew these little rascals needed some love and help right then and there, so she folded them into her family. As the boys were being readied to reunite with their father and he was looking forward to claiming custody and caring for the boys, Olivia got a call that confirmed a message forwarded to her heart. It turned out the mother was pregnant with a baby and this child would be up for adoption. That's how Rowdy entered their lives; the baby that was destined to be.
"Just when I tell God, 'OK, I'm done' or 'I'm stretched thin', not only do I find new strength, but God gives me a heads up that maybe there is more love to come." That's how a little girl named Rosa became part of their family. For a woman who didn't plan to have children after marriage, Olivia's seven special gifts from God have taught her that our best conceived plans pale in comparison to a little divine intervention.
Growing up in a Christian home with parents who were big on family and spent a lot of time with their children, Olivia feels she was taught a great compassion, "They loved us HARD!" she says, fondly recalling her childhood. John's family was also caring and hardworking, teaching him the structure and discipline needed to care for such a big brood. At first a little reticent to see their son and daughter-in-law take on such a great responsibility, they absolutely fell in love with each new child.
Fostering is not for the faint of heart and comes with many challenges. "Logistics!" says Olivia, "Just getting kids where they need to go, meeting them where they are and making sure they get the therapy they require is so important. The foster kids feel as connected as our birth children and we have to acknowledge the trauma they've been through and allow them to be identified as individuals."
Currently being challenged by a strong-willed 13-year-old foster child (and aren't ALL 13-year-old kids challenging?) the Womacks have had to dig deeper into why they do this amazing work, set clear behavioral boundaries and make sure to impart a key message to a child in crisis, "Your parents, past and circumstances don't define you." Yes, they make up each child's story, but the Womack's seek to instill hope in every child they care for.
"Life may not look perfect," says Olivia chuckling, "It's OK to get frustrated but don't STAY frustrated." Sometimes kids clash and when siblings disagree, the Womack's don't expect their children to play the parts of mature adults. They remind themselves of what each child has been through and accept that some days a closed door and some quiet time can heal hearts.
"Seeing growth is one of the great joys of fostering," Olivia says, "To watch a child just being a kid, feeling normal and seeing the value in themselves is great."
When asked where she sees herself in the future, as if she had a second to think about that, Olivia considers what it might be like to work for a pregnancy center in helping mothers in need, promoting fostering and adoption, or sharing her faith in a more public way. Still, she has learned not to project too far ahead and to leave space for God's plan in her life.
She laughs a little when asked about self-care. She mentions a camper sitting in the driveway, "I'd love to get out there by myself some time. Studying The Word refreshes my soul and helps me bring my best to my wonderful husband and children. I could also use a bubble bath!"
But the bubble bath will have to wait, the camper will likely not roll this weekend and Olivia may need a quick psalm rather than a full scripture to make it through the day, but this is how she is living her calling: doing God's work hour by hour for the love of child.
Fostering is about expecting the unexpected, going into prison ministry to find Elijah, seeking peace and getting Rowdy, and moving to Knoxville to find Memphis waiting for loving arms and an open heart.