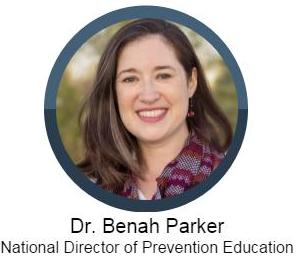 Dr. Parker Gets Real About Prevention Education
While I have only been at Childhelp for about 7 months, I am very excited to announce the release of the expanded and updated Childhelp Speak Up Be Safe prevention education curriculum. With the latest revisions, the curriculum is now designed to equip children from Pre-Kindergarten through 12th grade with the skills to identify, prevent, and interrupt all forms of child abuse – physical abuse, emotional abuse, and sexual abuse, as well as neglect, bullying, and cyberbullying.
Through a partnership with Northcentral University and Arizona State University, the Childhelp Speak Up Be Safe prevention education curriculum has been updated and redesigned with lessons and supporting materials to meet the needs of today's youth. This research-based, evidence-informed, comprehensive primary prevention program engages children and their adult community – parents, teachers, school faculty, community members, and other safe adults – in the safety of all children.
Child abuse is an epidemic in the United States. Every day, five children die as a result of abuse or neglect. The physical, emotional, and financial impact of this epidemic on our society is staggering. More than 3.5 million cases of abuse are reported each year, with 17.5% of those reports coming from educators.*
Because educators have a unique role in a child's life, they are in a position to recognize indicators of abuse that many other adults may not see. They see the children who are not dressed appropriately for the weather, the unexplained bruises and injuries, the sudden emotional outbursts or drastic personality shifts that can indicate something troubling occurring in a child's life.
The updated Childhelp Speak Up Be Safe curriculum offers a 21st century approach to the prevention of abuse by utilizing a web-based virtual campus where facilitators, school administrators, parents, and community members can access resources to help prevent child abuse. Facilitators receive comprehensive online, on-demand training to prepare them to discuss sensitive topics with children of varying ages and developmental levels, to recognize signs and symptoms of abuse, and to respond to potential disclosures of abuse from a child.
Program Highlights:
The Childhelp Speak Up Be Safe prevention education curriculum uses an ecological approach to help protect children and teens from abuse and neglect. This means that the curriculum includes lessons for children that are supported with activities within schools and communities, as well as resources and engagement pieces for parents and caregivers. The goal is to create an active safety network to protect all children from abuse.
Students receive two lessons per school year that are age appropriate, developmentally appropriate, interactive, and engaging. These lessons build on the same major concepts across all grade levels, but also focus on the key risks for abuse and maltreatment that children and teens are likely to encounter at various stages of their lives. For example, while middle and high school lessons may include more discussion about Internet safety and online predators, the youngest grades focus more on basic body autonomy and using their voices when they feel unsafe.
The primary concept across all lessons is that adults are responsible for keeping children safe, but there are safety rules that children can learn to help adults keep them safe. Children also learn how to recognize and identify safe adults in their lives.
With your help, we can bring the Childhelp Speak Up Be Safe prevention education curriculum into more schools and organizations to empower children and give them a voice in the threat against their safety, innocence, and lives. Together, we can help prevent child abuse.
I am available to answer any questions you may have about Childhelp Speak Up Be Safe, and I look forward to speaking with you. Please feel free to contact me at (480)922.8212 or bparker@childhelp.org.
*Child Welfare Information Gateway. (2015). Child maltreatment 2013: Summary of key findings. Washington, DC: U.S. Department of Health and Human Services, Children's Bureau.