For the fourth year in a row, more than 60 superheroes, 200 volunteers, and the greater Phoenix community came together to give a voice to those who have had theirs silenced. Spiderman, Wonder Woman, Captain America and other classic heroes from Heroes United AZ spent their entire September on the front lines – not fighting crime, but raising awareness for survivors of child abuse.
Childhelp and the Phoenix Police Department #PutOnTheCape to host Superhero September each year, a month-long celebration that includes donation drives, community events, shopping sprees, and internal celebrations. The Phoenix Law Enforcement Association, Phoenix Police Sergeants and Lieutenants Association, AZCOPS, Paychex, West Coast Plumbing & Air and Valley Spinal Care joined forces to host events throughout the month.
Preliminary numbers show that the campaign brought in over $35,000 in cash and in-kind donations, all of which support the Childhelp Children's Center of Arizona Dedicated to Linda Pope. In addition to monetary donations, community members pooled together superhero t‑shirts, action figures, backpacks and much needed supplies for children served by the Center.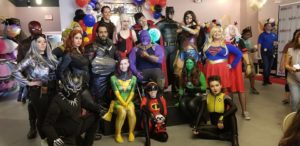 The Superhero September initiative began with the idea of providing hope, joy and strength for children whose world has been indefinitely altered by abuse or neglect. Introducing superhero themes, children are given the opportunity to stand empowered  while healing from unimaginable trauma. Each beloved hero has a tragic backstory,a reason why they became the hero they are. These children can do the same.
Danielle Gilmore, Volunteer and Donor Care Coordinator at the Center, said this powerful superhero rhetoric cannot be understated. She tells the story of how one child who witnessed his mother's murder was able to draw a parallel between himself and Spiderman.
"There was a Spiderman figurine in the corner of the room during the initial session with the child, and when the he spotted it he told the therapist 'I guess I'm just like Peter Parker. He saw his uncle die and I saw my mom die, so I can be like him,'" Gilmore explained.
With more than 650 children walking through the Center on a monthly basis, the impact of this campaign is immediate and noticeable. When children leave Childhelp donning a superhero t-shirt and clutching an action figure, they carry with them the knowledge that they can be heroes too.
The month kicked off with the Super Main Event, held at the Childhelp Children's Center of Arizona Dedicated to Linda Pope. The event, presented by the Phoenix Police Sergeants and Lieutenants Association and AZCO
PS, brought together people from around the valley who came out to support the mission while also getting up close and personal with their favorite costumed heroes including Batman and Batwoman, Superman and Supergirl, Iron Man, Black Widow, Mr. Incredible, Guardians of the Galaxy and more.
In addition to the main event, several sponsors banned together for four shopping sprees. Superheroes and volunteers went out to several Walmart and Target locations to shop and raise awareness for the initiative; all made possible thanks to donations from several community partners. In addition, fifteen different groups hosted toy drives in their offices and businesses.
"The campaign really gets the community involved in a way that you don't normally see when it comes to child abuse," Gilmore said. "When you frame the issue around the superhero mentality, it really opens a lot of doors."
This year's campaign saw three new events, including the North Phoenix Superhero Spectacular. Due to overwhelming popularity of the Super Main Event, there was a need for a second hero-themed event to accommodate all of the community members seeking to make a difference. This is also the first year that the campaign has attracted sponsors for every single event.
"It's amazing watching this campaign grow every year, and then to see its impact in each child we serve at the center every day… it's absolutely moving," Gilmore said.
Now, the center's toy room is overflowing with Superhero spirit, at the ready to provide strength and courage for each child that walks through our doors.
Childhelp would like to give special thanks to the sponsors and volunteers who helped make this campaign possible:
Event Sponsors:
Phoenix Law Enforcement Association
Phoenix Police Sergeant and Lieutenants Association
AZCOPS
West Coast Plumbing & Air
Valley Spinal Care
Paychex
Nathalie & CO Dancewear and Little Things
Target
Walmart
Campaign Sponsors:
AT&T
JLH Land Surveying, Inc.
Community Sponsors/Drives:
Mayo Clinic
Faith Bible Church
Norterra Canyon K-8
Red Robin
Asurion
Phoenix Police Department Communications Bureau
Tether Tools
#LoveUp Foundation
LYFT
Scottsdale 20/30 Club
Paychex
Valley Spinal Care
Nathalie & Co Dancewear and Little Things
Shops @ Norterra
Volunteers:
#LoveUp Foundation
Boys Team Charities
National Charity League
Childhelp Wings Phoenix Chapter
Pinnacle Peak High School
Bikers Against Child Abuse
Phoenix Police Department Academy Class
Mayo Clinic
Valley Spinal Care
About The Childhelp Children's Center of Arizona Dedicated to Linda Pope:
The Childhelp Children's Center of Arizona Dedicated to Linda Pope is a highly effective, nationally recognized one-stop approach to child abuse response. As a model of community collaboration, the center provides a child-friendly facility where members of a multi-disciplinary team interview victims, conduct medical exams, provide specialized mental health treatment, and provide family members with referrals to other community resources while law enforcement agencies and county attorneys pursue the prosecution of offenders. The Childhelp team is co-located with teams from Phoenix Children's Hospital, the Office of Child Welfare Investigations, and the entire Phoenix Police Department's Crimes Against Children Unit. The center also partners with the Maricopa County Attorney's Office, the Office of the Attorney General, and the Department of Child Safety.