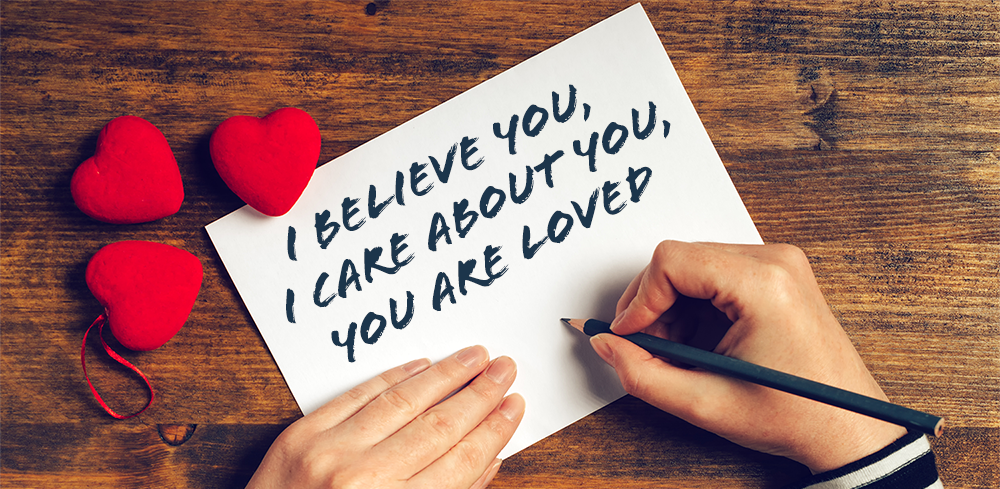 A Letter to Survivors of Child Abuse
When a friend or loved one reaches out for help, it can be difficult to know what to say or what to do. When someone shares a personal story, it is because you are trusted, you are safe and a brave survivor is willing to be vulnerable with you. That says a lot about you as a person.
If you didn't get it right, said the wrong thing or found yourself at a loss for what to do next, there is always a redo. Here is a possible letter you can make your own following the key rules for starting a healing process together:
ACKNOWLEDGE: Acknowledge the pain and hurt a survivor has experienced
ASSURE: Assure a survivor that you believe her/him
AVOID JUDGMENT: Childhelp Speak Up, Be Safe has a key rule taught to all children: Abuse is never the victim's fault
AFFIRM: Affirm that you are there for her/him to advocate, support or just listen
Dear_____________,
You shared your heart with me and I didn't know what to say. You were courageous with your story and I was at a loss for words. I am writing to tell you that I am sorry these things happened to you and you didn't do anything to deserve it. I believe you, I care about you, and you are loved.
You were a child, completely vulnerable, and you were a victim of abuse. These traumatic events must have hurt you so much at the time and they must still cause pain in your life. The way you carry through with your day, your accomplishments and the qualities people value in you are all testaments to your strength and resilience.
Still, you don't always have to be strong. When you are hurting, I want you to know I am here to listen or help. If you just want to hang out and have fun without being responsible for your story, I am here for coffee or a day at the park. If you are feeling sad or depressed and want to talk, I am just a phone call away. You don't have to go through this alone.
There is a service that helps children who are being abused as well as survivors seeking resources, and even help, in their regions. It's the Childhelp National Child Abuse Hotline 1-800-4-A-Child (1-800-422-4453). Professional counselors are there day and night to help intervene in crisis, locate support groups, or to just hear your story if you're having trouble sleeping in the middle of the night. Someone is always there to talk, text or chat; a caring heart is available when you need understanding.
Thank you for the trust you showed. Thank you for letting me know I am a safe person in your life. I would be honored to be part of your healing and hope for a brighter future. I wish someone would have stepped in when you were hurting as a child. I may not always have the right words to say, but I will always be here for you.
I believe you, I care about you, and you are loved.
Love, _____________