By: Jordan Fuller; Guest Blogger, Golf Professional, Golf Influence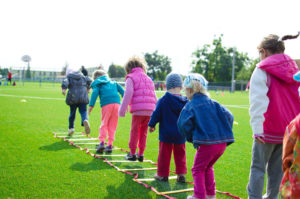 Unless the plan is to keep them at home, shooting baskets on the driveway or putting on the practice green in the living room even beyond COVID-19, allowing your children to participate in youth sports is going to require effort to keep them safe, both physically and emotionally.
For any athlete, coaches have a good deal of authority and are not often questioned by young athletes, or their parents. Typically there is an emotional link between victims of abuse and their offenders, and the offender is all too often in a position of authority. This fact, unfortunately, creates a conducive environment for abuse in the world of youth sports. 
But there are some things that can be done to help keep kids safe while playing sports.
Speak Up
Some parents don't hesitate to question a coaching decision. It's common for a parent to question why their player is not in the lineup today, or not on the field. But in the case of suspected abuse by a coach or another player, it is imperative to voice concern.
If you see something that concerns you, makes you feel uncomfortable or just doesn't seem right, there is ample cause to report what you are seeing. 
Additional Read: Childhelp Speak Up Be Safe for Athletes
Don't Say "It Can't Happen Here"
Failing to act when seeing a warning sign of abuse can be catastrophic, and while we never want to think our friends and neighbors — people we normally trust in our community — are capable of abuse, it is important not to turn a blind eye. Just because your sports organization has never had anyone accused of abuse is no guarantee players are always safe.
Pay Attention
While standing on the sidelines and casually chatting with parents, pay attention to the interactions between your child's teammates and their parents. An overbearing parent may be more of an indicator of a problem than what is happening just on the field or during a competition.
How a parent reacts in public, and how they interact with their player during and after games can sometimes be an indicator of a problem at home. For many young athletes, the playing field is a form of refuge from abusive home life.
PGA Tour Professional Ken Green released a self-published autobiography titled "Hunter of Hope: A Life Lived Inside, Outside and On the Ropes." Green describes his life as a teen in Guatemala, where, because of his alcoholic father's negligence, he suffered years of sexual abuse by his father's friends. For Green, the golf course was a refuge from this abuse.
Watch for warning signs, and talk to your kids about listening to their friends about what is going on outside the sport. Don't hesitate to report any concerns that may have some basis.

Choose a Safer Sport
Some sports involve more interactions than others, and if you're concerned about your child's exposure to any potential threat there are choices that can be less risky. 
Team sports require a great deal of interaction with others and consistent coaching by sometimes several adults, while tennis, golf, and track typically are more of an individual sport that allow for less interaction and require little contact.
The golf pro teaching the proper grip of the club on the range doesn't expose a child to many risks. Obviously, having to change in a locker room after a football game is different than walking to the car after a round of golf.  
Communicate With Your Kids
Encourage face to face communication with your kids. Parents today are more comfortable than ever discussing sensitive topics with their children than have generations past. "The Talk" was always some form of a right of passage, but with the availability of quality education with regards to what is appropriate and what is not, at a relatively young age, it has become easier to convey to children what is right and what is wrong.
Whatever the method, keeping our kids safe while they are playing sports is a team effort. Being aware of our surroundings, watching for the red flags and communicating any concern is paramount to the success of keeping them from harm.
---
Childhelp welcomes guest posts from contributors committed to preventing abuse and neglect of children. Childhelp and our partners at the Foundation for Global Sports Development has been helping keep children safe in youth sport for years through Childhelp Speak Up Be Safe for Athletes.
We encourage survivors and concerned adults to call or text the Childhelp National Child Abuse Hotline at 1-800-4-A-CHILD or start an online chat at childhelphotline.org.