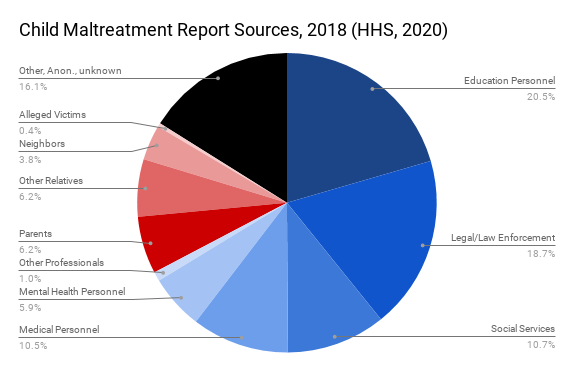 In a normal year, more than two-thirds of child maltreatment reports are made by professionals in a child's life. Teachers are responsible for referring one in every five cases of child abuse or neglect that is investigated by or that receives an alternative response from a state child welfare agency.
Further, school resource officers, counselors, psychologists and nurses join teachers and administrators on the front line of response to child abuse and neglect. Every state mandates that at least certain professionals report suspicion of abuse or neglect of children, with 18 states requiring any person who suspects child abuse or neglect to report.
To keep children healthy amid the COVID-19 pandemic, many communities have delayed opening schools and deliver at least some instruction remotely to children.
This means contact between caring professionals and the children they serve has been limited, and abuse reports have already been lagging nationwide from the Spring 2020 disruption to in-class learning, even as hospitals report increasing severity of child abuse injuries. At the same time, students who already faced precarious access to a healthy diet face even greater food insecurity when stuck at home.
The national response to the pandemic amplifies a range of risk factors for child abuse:
Financial insecurity
Social isolation
Household stress
Affordable child care
It's important to understand, now more than ever, everyone should be empowered to report suspicion of abuse or neglect of a child, regardless of profession or relationship to the suspected victim. If you have questions or concerns about reporting, contact your state child welfare agency, call or text the Childhelp National Child Abuse Hotline at 1-800-4-A-CHILD, or visit childhelphotline.org for more information.
It's also important for adults in children's lives to understand how their role in keeping children safe must change in the face of the COVID-19 pandemic.
Teachers and Professionals who Work with Children
Teachers and other professionals who work with children should refamiliarize themselves with mandatory reporter training guidelines if they haven't already. There are no 'sure-fire' signs of abuse and neglect short of witnessing maltreatment or hearing a disclosure by a child. Still, most of the academic, emotional and familial clues that would be present in the classroom can also be observed remotely. Teachers will have to be extra observant to keep children safe.
Here are a couple tips to remember to keep kids safe over distance learning:
Not all situations are equal: While abuse knows no race or class, each student is unique, and the context of each student's life shapes much of the risk they face. Children who are exceptionally vulnerable to abuse include those with disabilities; students who are already in the child welfare system or whose parents have been involved in the criminal justice system; students whose parents have mental health disorders and substance abuse disorders; and students who are transient, or otherwise isolated beyond COVID-19 lockdown.
Effective educators and caring professionals watch for signs of abuse and neglect among all students; Individualized, strength-focused support helps all students succeed.
While some districts limit one-on-one communication between teachers and students, most permit such contact through monitored channels. A student who needs help might not feel comfortable asking for it in a classroom chat.
Parents and other Family Members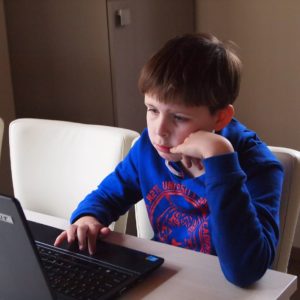 It is every adult's responsibility to keep children safe, and for no adults is that more true than for parents and relatives of children. Though most children spend more time with their parents than any other adults, parents are responsible for a small percentage of child maltreatment reports.
The sad fact is that more than three-quarters of child abuse and neglect is perpetrated by parents and around seven-eighths of perpetrators identified by child welfare agencies are either relatives of the victim or partners of relatives. Child maltreatment overwhelmingly occurs in the household where the victim lives, and during COVID-19 lockdown, that is where many children spend all day almost every day.
The most important step for a parent to take in preventing abuse and neglect is to be the best parent possible. Every parent is likely to experience increased stress in the face of COVID, but managing stress, creating routines, staying positive, and most importantly talking about what is going on can help a family work as a team during this ongoing challenge.
In some high-risk households, that means parents with known mental health disorders should strengthen efforts to remain in touch with treatment providers and nurture healthy, supportive connections. Along these lines, parents who have substance abuse disorders may struggle even more with recovery and subject children to even more risk.
Reaching out for help isn't always easy, but parents who find the help they need help their children too.
Other adults must step up efforts to support parents and make sure children are getting the care they need too, and if anyone suspects a child is experiencing abuse or neglect, the best time to make a report is right now. Call or text the Childhelp National Child Abuse Hotline at 1-800-4-A-CHILD, or visit childhelphotline.org for help today.
Online Presence, Real-World Threat
As more of a child's life moves online, the risk for online exploitation grows.
The Federal Bureau of Investigation suggests the following to help children stay safe online:
Online Child Exploitation

Discuss Internet safety with children of all ages when they engage in online activity.
Review and approve games and apps before they are downloaded.
Make sure privacy settings are set to the strictest level possible for online gaming systems and electronic devices.
Monitor your children's use of the Internet; keep electronic devices in an open, common room of the house.
Check your children's profiles and what they post online.
Explain to your children that images posted online will be permanently on the Internet.
Make sure children know that anyone who asks a child to engage in sexually explicit activity online should be reported to a parent, guardian, or other trusted adult and law enforcement.
Remember that victims should not be afraid to tell law enforcement if they are being sexually exploited. It is not a crime for a child to send sexually explicit images to someone if they are compelled or coerced to do so.

Child Abuse Awareness

Teach your children about body safety and boundaries.
Encourage your children to have open communication with you.
Be mindful of who is watching your child for childcare/babysitting, playdates and overnight visits.
If your child discloses abuse, immediately contact local law enforcement for assistance.
Children experiencing hands-on abuse may exhibit withdrawn behavior, angry outbursts, anxiety, depression, not wanting to be left alone with a specific individual, non-age appropriate sexual knowledge, and an increase in nightmares.