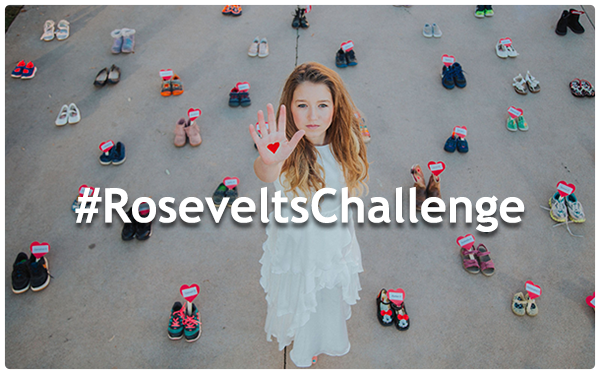 By Kathy Emig, Director of Wings & Arizona Chapter Coordinator
At age 11, Rosevelt Rawls knew that she wanted to use her voice for the voiceless children who lose their lives every day to child abuse and neglect. As a youth herself, she uses her beautiful, angelic voice through her heart rendering songs and her advocacy as a Childhelp Youth Ambassador to raise awareness and money that make a difference in the lives of the children we serve. In her own words, she shares how she is addressing the issue of child abuse and neglect.
---
How did you first hear about Childhelp?

Sherrie Nattrass told me and my parents about it. She told us of the 5 kids that die every day and I knew I wanted to help.

How did you meet Sara O'Meara and Yvonne Fedderson and get involved with Childhelp as a Junior Ambassador?

The ladies called my parents on the phone after seeing my music videos and asked if I would be an Ambassador. Later, at the Childhelp Wings event, I met the ladies face to face and they were the most amazing and loving women I've ever met. I knew they had big hearts to help and they became my adopted grandmas.

How long have you been supporting Childhelp and the children we serve?

I started about 1.5 years ago.

Over the past year, how have you used your position as a Childhelp Junior Ambassador to raise awareness about abuse and neglect?

I started a social media challenge called #RoseveltsChallenge to raise awareness that 5 kids die every day because of abuse… that's #5toomany! People place a heart on their hand and post a photo on social media. They tag 5 friends to do the same and then they donate $5 (or more) to: https://www.childhelp.org/5toomany/.

I also did 2 concerts to bring the community together, educate them and raise money. For "The Music & The Message" I invited Elizabeth Smart (a survivor of abuse) as my keynote speaker to share a message of hope and life after trauma. This event was attended by 1,300 people. We are planning on doing this annually and already have even bigger plans to make an even bigger impact.

How can we assist you with spreading your message about your #RoseveltsChallenge and #5TooMany?

I think if we can have all of the ambassadors and Childhelp supporters post on their social media on March 28th, that would help it go viral in the month of April. Or any of the social media influencers. Or any news people. Let's all work together to stop abuse!
---
March 28th will be Rosevelt's 13th birthday. She has chosen this day to launch her social media #Roseveltschallenge campaign. Her intention is to raise 1 million dollars. We can all support her efforts by joining her challenge by donating $5.00 and by challenging 5 of our family and friends to do the same. To learn more go to: https://www.childhelp.org/5toomany/.
Stay tuned for her continuing journey of hope and love.