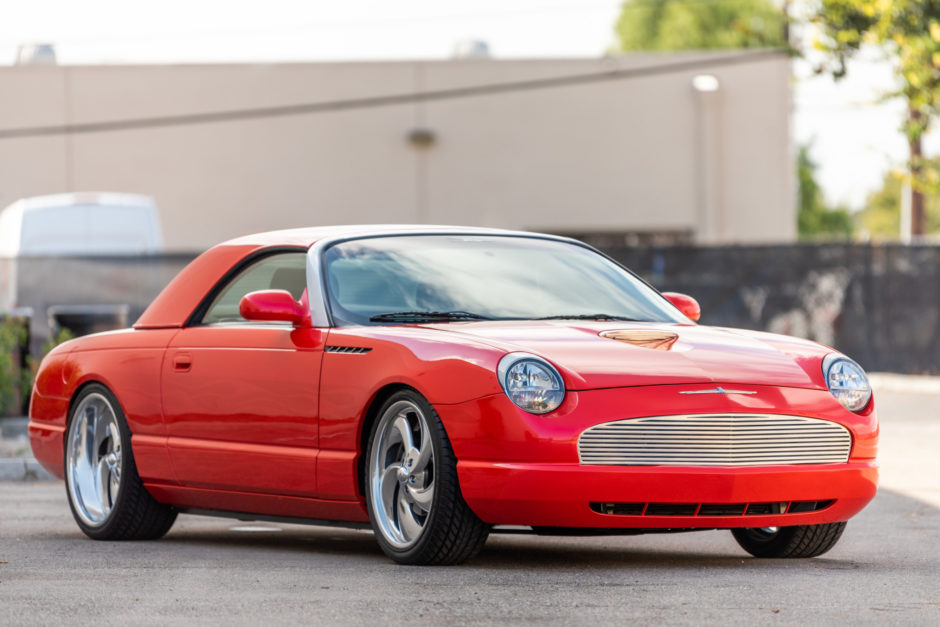 Award-winning one-of-a-kind 2003 Ford Thunderbird SEMA Build has only 9,600 miles
PHOENIX (Oct. 28, 2019) – Speed away in a bright tangerine Thunderbird while raising money to fight child abuse and neglect thanks to a Bring A Trailer auction benefitting Childhelp, the nation's oldest and largest nonprofit fighting to end child abuse and neglect.
The stunning 2003 Ford Thunderbird was modified when new by Doug Deberti and showed at the 2003 SEMA Show, where it won a Ford Design Award for Best of Show. The previous owner donated the Thunderbird to Childhelp for auction, with the winner generously donating it back to Childhelp to keep the journey of hope rolling forward for the love of a child.
"Thanks to the huge hearts of our auto industry partners, Childhelp's programs and services have benefited from thousands of dollars in donations that directly benefit abused, neglected and at-risk children," Childhelp Chief Development Officer Michael Medoro said. "We are proud to unite car enthusiasts with our mission as they make a difference in driving future dreams for children in need."
The subtle details of this car come to life in the bright-colored flames that accent the Tangerine Pearl exterior. The cabin is finished in black and features brushed aluminum trim, while the six-way adjustable bucket seats feature leather from Classic Soft Trim with white inserts and red trim.
Deberti installed a custom aluminum grille and deleted the side markers and fog lights, as well as the porthole windows from the removable hardtop. The Jaguar-designed 3.9-liter AJ-30 V8 features dual overhead camshafts and was rated for 252 horsepower and 267 lb-ft of torque when new, which is sent to the rear wheels via a five-speed automatic transmission with overdrive.
"My team and I were so proud to build this custom 1 of 1 Thunderbird with the best of the best of everything," Deberti said. "We're honored that Ford awarded it their SEMA Best of Show Award, meaning that the new owner will have a piece of Ford history, a piece of SEMA history, and a pretty sweet ride. I can't think of a better way to build a collection and support a great charity along the way, and we're excited to welcome the new owner into the Deberti family."
This Thunderbird now shows just 9,600 miles and is being offered in Costa Mesa, California, with a clean Arizona title in the charity's name.
Bring A Trailer generously donated all listing fees, with the buyer's fee also donated directly to Childhelp's programs.
"Bring A Trailer Auctions are a great way to contribute to charitable causes like Childhelp," Bring A Trailer Co-Founder and CEO Randy Nonnenberg said. "Any fees we collect on charity listings are donated to the same charity selected by the seller. We also provide a donation link to the thousands of BaT community members that will be watching and commenting on the online auction. Childhelp is one of our favorite charities and we are excited to also donate all of the proceeds from our annual BaT Calendar sales to Childhelp this year."
The auction will run through Monday, Nov. 11, 2019 at https://bringatrailer.com/listing/2003-ford-thunderbird-13/
###
About Childhelp: Founded by Sara O'Meara and Yvonne Fedderson in 1959, Childhelp® has brought the light of hope and healing into the lives of more than 10 and a half million children as a leading national nonprofit organization dedicated to helping abused, neglected and at-risk children. Childhelp's programs and services include residential treatment services, children's advocacy centers, therapeutic foster care, group homes and child abuse prevention, education and training. The Childhelp National Child Abuse Hotline serves children and adults nationwide 24/7 through phone, text and online chat. For more information, visit www.childhelp.org and follow Childhelp at facebook.com/childhelp, instagram.com/childhelp and twitter.com/childhelp.