FOR IMMEDIATE RELEASE – Dec. 21, 2020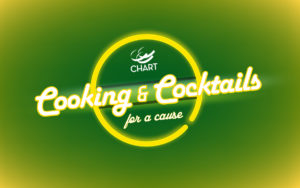 Contact: Eileen Morang, 602-527-0571, emorang@childhelp.org
Funds raised support Childhelp's child abuse prevention, intervention & treatment programs
PHOENIX — The Council of Hospitality and Restaurant Trainers (CHART) held its 35th annual community service event in a new, virtual fashion, raising $5,642 for Childhelp, the nation's oldest and largest organization fighting child abuse and neglect.
The virtual event, Cooking and Cocktails for a Cause, invited CHART's members to create a fun video demonstrating the preparation of a food or drink recipe on their own personalized fundraising pages, and then share with friends and family to raise funds and awareness for Childhelp.
"CARING is one of CHART's core values, and when we didn't know how to do a service event without an in-person conference, Childhelp was able to facilitate an incredible virtual event that allowed our members to showcase the best of hospitality: food and drink," CHART President Serah Morrissey, Senior Director of Human Resources for the InterContinental Hotel MSP, said. "We couldn't be more proud and humbled to have exceeded our fundraising goal in a way that benefits abused and neglected children."
The recipes that brought in the most donations included Short Rib Mac & Cheese, Crispy Bacon BLT, vintage cocktail the Mamie Tailer, and Chocolate Peanut Butter Old Fashioned.
"2020 has been a tremendously difficult year for our industry, but CHART's members found a way to come together, share and celebrate as a community of hospitality trainers while giving back to others," CHART Board Member Colby Hutchinson, Director of Customer Experience, Education and Training for Best Western Hotels and Resorts, said. "I was inspired to see so many of our members participate, both in sharing their videos and in donating. It's very heart-warming to call this group both colleagues and friends. We had a great time for a great cause."
The fundraiser ran throughout October and November, with videos and donations pouring in from across the country to support Childhelp's lifesaving programs and services, which aim to support the physical, emotional, educational, and spiritual needs of abused, neglected, and at-risk children. In 2019, Childhelp provided more than 250,000 services to children and families, and has helped more than 11 million children since its founding in 1959.
"CHART's guiding principles are learning, sharing, growing, and caring and that's exactly how they showed up to partner with Childhelp on this Cooking & Cocktails for a Cause event," Childhelp's Senior Director of National Special Events Eileen Morang said. "CHART members have been personally impacted by the devastation COVID-19 has had on hotels and restaurants across the globe, but that didn't stop them from supporting the precious children in Childhelp's care. It was truly a heartwarming and inspiring event, one that will impact many children."
Those interested in learning new recipes and donating can still check out the event page at childhelp.org/chart.
# # #
About Childhelp
Founded by Sara O'Meara and Yvonne Fedderson in 1959, Childhelp® has brought the light of hope and healing into the lives of more than 11 million children as a leading national nonprofit organization dedicated to helping abused, neglected and at-risk children. Childhelp's programs and services include residential treatment services, children's advocacy centers, therapeutic foster care, group homes and child abuse prevention, education and training. The Childhelp National Child Abuse Hotline serves children and adults nationwide 24/7 through phone, text and online chat. For more information, visit www.childhelp.org and follow Childhelp at facebook.com/childhelp, instagram.com/childhelp and twitter.com/childhelp.
About CHART
CHART (chart.org), a non-profit professional association founded in 1970, is the leading resource for the development and advancement of hospitality training professionals and their organizations. With more than 650 members from more than 350 restaurant, foodservice, and lodging companies, CHART represents a workforce of almost three million. CHART includes all facets of hospitality training, learning, and performance professionals; from entry level to senior executive. CHART's mission is to develop hospitality training professionals to improve performance through access to networks, education, and resources. Follow CHART on LinkedIn, Facebook, Instagram, or Twitter at @CHARTtrainers.