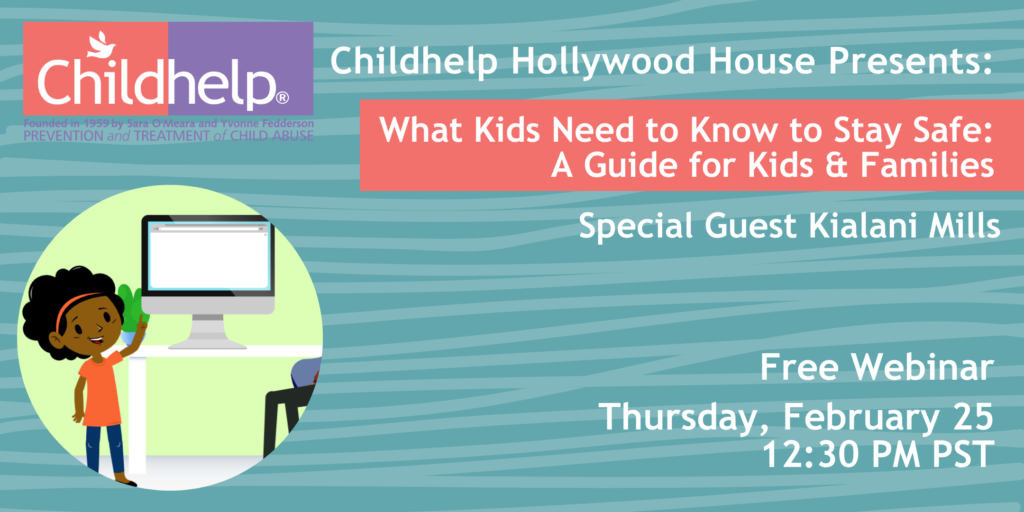 Presented by Childhelp Hollywood House
What Kids Need to Know to Stay Safe: A Guide for Kids & Families
A Courageous Conversation with Special Guest Kailani Mills
Childhelp Hollywood House is offering a FREE WEBINAR about personal safety for families with children from age 4 to 13. The family-friendly webinar will teach the five Childhelp Speak Up Be Safe safety rules and explain how these rules can help kids stay safe from abuse, even when they are online. This is a must-see webinar for anyone committed to protecting young children and starting a lasting conversation with them about preventing abuse and staying safe, online and off.
We will deliver tools from our prevention education program that will increase your child's ability to recognize unsafe situations or abusive behaviors and to build a responsive safety network. You may recognize our multitalented special guest and Childhelp Youth Sports Ambassador, Kialani Mills, who will walk kiddos through safety rules and scenarios to demonstrate how to stay safe from abuse. We'll also introduce a short video about online safety that can help the concerned adults in a child's life to start the conversation about staying safe on the Internet and in social media apps.
For decades, the Childhelp Speak Up Be Safe (CHSUBS) curriculum has provided students from pre-kindergarten through 12th grade with age-appropriate knowledge, tools, and skills to prevent, recognize, and stop child abuse. During the pandemic, Los Angeles youth and families are at greater risk. Our children are increasingly vulnerable to Internet scams and predators as well as cyberbullying. Now is the time for a courageous conversation with our kids.
This is the second of a three-part educational series that Childhelp Hollywood House is offering to Angelenos. This first session was structured for adults with a survivor's guide to preventing child abuse from speaker Jenna Quinn (recorded session found by clicking here), and the third session will deliver Childhelp Speak Up Be Safe prevention tools for high school students and their families. We recommend that parents or other interested adults attend all three sessions, and invite the kids in their lives to the session for their age group. Join us for this educational discussion and open up a courageous conversation with someone you love, a child in your life, or a Childhelp Counselor ready to hear your story.
---
Date: Thursday, February 25, 2021
Time: 12:30 PM PST
*After registering, you will receive a confirmation email. Several days prior to the event, you will receive information about joining the webinar.
---
Meet the Speakers: Zuzana Urbanek and Daphne Young, with a special appearance by Kialani Mills
| | |
| --- | --- |
| | Kialani Mills is a multitalented young lady with a passion for playing tennis, singing, and performing! When not training for tennis or competing in tournaments, she is singing. She has performed in front of thousands of people at several professional sporting events, including games for the Phoenix Suns, Arizona Cardinals, Anaheim Angels and the US Open in New York City. She has done commercials and also had the unique opportunity to interview a number of celebrities and professional athletes ranging from Katie Couric to the late Kobe Bryant. Most recently, Kialani was featured on a Disney Channel holiday show with Meg Donnelly in December. |
| | Zuzana Urbanek serves as Program Manager for Childhelp Speak Up Be Safe. Deep belief in prevention education drives Zuzana to explore new ways of presenting safety strategies to help kids stay safe from abuse. She holds bachelor's degrees in English and art from Mount Mary University in Wisconsin, and a master's degree in English education from Arizona State University. She has been a teacher, headed a division of a textbook company, and created curriculum for students to learn online. |
| | Daphne Young is the Chief Communications Officer at Childhelp. She has worked as an associate newspaper editor and award-winning investigative journalist, department head of a K-12 school for at-risk youth, university instructor, and various marketing and communications roles. She has a bachelor's degree from the University of Kansas and a master's from the University of Arizona. Her passion is improving the intervention, promoting the treatment, and expanding the prevention of child abuse. |
---
For more information or if you need help registering, please contact us at speakupsupport@childhelp.org.