Since 1989, Congress has acknowledged October as Domestic Violence Awareness Month.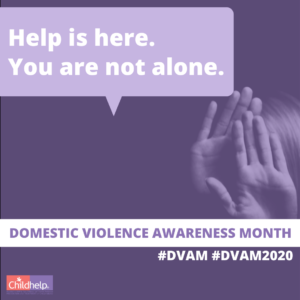 Childhelp's mission is to meet the needs of abused, neglected and at-risk children, and that means supporting homes that are happy, harmonious and healthy. Child abuse is a type of domestic violence, to be sure, but typically Domestic Violence Awareness Month is understood as an opportunity to draw a spotlight to intimate partner violence, in particular — the perpetration of abuse against a wife, husband or domestic partner.
Childhelp strongly supports survivors of domestic violence and the work of organizations that stand for safe families.
According to the National Coalition Against Domestic Violence, every year more than 10 million people are physically abused by an intimate partner in the United States. Further, the organization cites 1 in 4 women and 1 in 9 men as victims of severe intimate partner physical violence, intimate partner contact sexual violence, and/or intimate partner stalking.
When children witness such abuse, they too are victimized.
The Department of Justice [PDF link] estimates 1 in 15 children are exposed to intimate partner violence in a given year and 1 in 4 will be exposed to at least one form of family violence during their lifetimes.
Furthermore, childhood exposure to adverse childhood experiences, like child maltreatment, is associated with the experience of intimate partner violence as an adult.
Child abuse prevention is domestic violence prevention.
Childhelp is proud to work as a force against domestic violence, and we stand with non-profit organizations that make a difference: the National Domestic Violence Hotline, the National Coalition Against Domestic Violence, the National Network to End Domestic Violence, and other national and local organizations acting to uplift survivors of abuse, prevent intimate partner violence and keep families safe.
We are also actively working with public social service organizations, prosecutors, and law enforcement officials devoted to protecting individuals from harm and upholding laws designed to keep families and communities safe.
Childhelp Children's Center of Arizona shares the office with the Phoenix Police Department, Phoenix Children's Hospital, the Arizona Department of Child Safety, and just upstairs is the Phoenix Family Advocacy Center.
Michelle Genaro, the director of Childhelp Children's Center of Arizona, recently shared a story of how a family torn apart by an abuser found help in the midst of despair.
Recently, siblings arrived at the center. Their mother had been murdered by her boyfriend, and they had witnessed the crime.
The Childhelp forensic interviewer was able to hear about their experience as officials came to better understand the crime, but it was clear the children needed immediate intervention. A Childhelp therapist was on hand, and also reached out to work with the rest of the family over the weekend and enroll the children in long-term trauma-based therapy. These brave children have survived the most difficult experience of their lifetimes, but they are now safe, secure and ready to start the process of rebuilding. We cannot promise them an easy road to a brighter future, but we can promise they will be surrounded by the best team and start their healing journeys with a lot of love.
Losing one parent at the hands of another is a worst-case scenario, but in the worst cases, Childhelp will be there to help.
If you or someone you know is a victim of domestic violence or a survivor looking for help, call the National Domestic Violence Hotline is: 1-800-799-SAFE (7233)
If you want resources to help children who have been impacted by intimate partner violence or who have also been victimized by an abuser, call or text the Childhelp National Child Abuse Hotline at 1-800-4-A-CHILD or visit childhelphotline.org for online chat.