FOR IMMEDIATE RELEASE  – JULY 9, 2019
MEDIA CONTACT: DAPHNE YOUNG | 480-922-8212 | DYOUNG@CHILDHELP.ORG
PHOENIX – Childhelp is overjoyed to announce alongside Arizona Governor Doug Ducey that Greg McKay, current Director of the Arizona Department of Child Safety, will join Childhelp as Chief Operating Officer.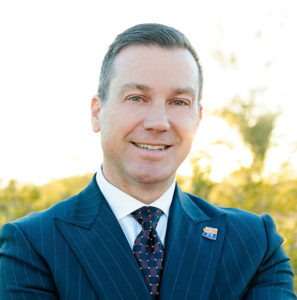 As Childhelp's COO, McKay will bring his action-oriented leadership and success in caring for Arizona's children to the national stage as a leader in one of the nation's top organizations working to prevent child abuse and neglect.
As Director of DCS, McKay inherited a department with some of the worst child safety numbers in the country – long hotline wait times, overwhelming case backlogs and a rising number of children in foster care. Today, the department is recognized as a national model thanks to the innovation and efforts of McKay and his staff. Every child deserves this level of commitment, and Childhelp looks forward to working alongside McKay to continue the next phase of child welfare progress throughout Childhelp's programs and services.
"Under the mentorship of Gov. Ducey, Greg McKay offered the children of Arizona compassionate care and fierce advocacy," Childhelp Co-Founder and CEO Sara O'Meara said. "As Childhelp's COO, he will continue his leadership to encompass programs and services throughout the country with the same spirit and heart."
Childhelp began in 1959 when two young actresses rescued 11 orphans in the middle of a typhoon in Japan. Throughout the last six decades, Childhelp has transformed into a leading organization with national and regional programs dedicated to the prevention and treatment of child abuse and neglect. As Childhelp reflects upon the last 60 years and celebrates decades of pioneering breakthroughs, Greg McKay is the ideal leader and visionary to join the team.
"We are proud to welcome McKay as he leaves one of the most honored appointments of his career and takes on the role of a lifetime," Childhelp Co-Founder and President Yvonne Fedderson said. "We trust him with not only our mission, but the legacy of Childhelp's future vision."
McKay has received numerous awards for his efforts at DCS, including the Maricopa County Justice for All Award, the Casey Family Programs' Excellent for Children Award for Exceptional Leadership, and the Childhelp Voice of the Children Award. Prior to his appointment by Gov. Ducey, McKay served 20 years in law enforcement, solving high profile child murder cases.
###
About Childhelp: Since 1959, Childhelp® has brought the light of hope and healing into the lives of countless children as a leading national nonprofit organization dedicated to helping abused, neglected and at-risk children. Childhelp's programs and services include residential treatment services, children's advocacy centers, therapeutic foster care, group homes and child abuse prevention, education and training. The Childhelp National Child Abuse Hotline serves children and adults nationwide 24/7 through phone, text and online chat. For more information, visit www.childhelp.org.