You won't want to miss Joshua Lozoff: Life Is Magic on Saturday, September 25, 2021 at the Cove at Fawn Lake Country Club.
Come and help us in support of Childhelp's Alice C. Tyler Village. All funds raised benefit the children who have suffered the effects of child abuse right here in our home state.
Joshua Lozoff • Life is Magic
Magic, mind-reading, and mystery! Joshua's show combines incredible magic with psychology, intuition and other "inner workings of the mind." In one moment, he magically solves a Rubik's Cube just by tossing it in the air, and in the next he predicts a volunteer's thoughts and choices even before she knows them herself! Joshua loves sharing his craft with people in every setting. And his passion for magic come across in every performance. Audiences leave amazed, entertained and believing Life is Magic.
About Joshua Lozoff
Joshua Lozoff has been studying and sharing magic around the world for twenty years. He regularly performs in theaters and at corporate & private functions throughout the United States and abroad.
Joshua's motto is "Life is Magic," and he walks his talk by performing everywhere from penthouse suites to the streets of Guatemala City; sharing magic with Fortune 500 CEOs, folks on the street, and everyone in between. Joshua says, "the most beautiful thing about magic is how it appeals to everyone. I can go from a black-tie gala to a backyard barbeque, and everyone has a few moments in time which transcend our ordinary reality; moments of awe, of astonishment, and just a flat-out fun time."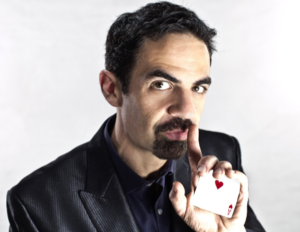 Recently, Joshua had the honor of being one of only two magicians to receive an invitation to perform at the World's Fair in Japan. He spent two weeks as a featured performer for the USA Pavilion, entertaining Fair visitors from around the globe.
Before turning his attention to magic, Joshua was a professional actor, with a notable recurring role on the TV show Cheers, as Gino Tortelli, and as Logan in the movie Clueless. You can even see Joshua's martial arts prowess on display (he holds a 2nd degree black belt in Aikido) in the film Teenage Mutant Ninja Turtles! See Joshua's full film and television credits here.
After 14 years as a professional actor, Joshua left Los Angeles to regain his sanity and devote more time to service work, including volunteer stints throughout Latin America.
It was during his travels that a chance encounter with a street magician sparked a new passion, and Joshua began his training. Traveling around the world, Joshua studied with master magicians on several continents. After years of full-time training, he began sharing his craft with others. Now Joshua is regarded as one of the top magicians working today. Last year, Joshua logged over 200 private and public performances; at events ranging from small private parties to corporate banquets and gala balls, and even wedding receptions (for more information on Joshua's wedding magic, go here).
Joshua loves sharing his craft with people in every setting, and his love and respect for magic come across in every performance. A few moments spent with Joshua can truly inspire, amaze and entertain.
How can you help?
Invite your friends and family members and purchase tickets

download the sponsorship form

Make a donation – every contribution directly impacts our children
For more information please contact Wade Hardman at whardman@childhelp.org or 540-399-5076.