PHOENIX (March 31, 2020) — April 1st marks the beginning of Child Abuse Prevention Month in the United States. With schools, daycares and community centers across the country closed due to the global pandemic, Childhelp is experiencing an increased need for services and is calling on all Americans to help us get the word out throughout the month of April that hope — and help — are here. 
"Anyone can reach our trained counselors round-the-clock," says Childhelp Founder and CEO Sara O'Meara. "Sharing our number helps save lives. We are only a call, text or online chat away — all simply by reaching out to Childhelp's 1‑800­‑4­‑A‑CHILD hotline."
One of the largest and oldest nonprofits in the United States working to treat and prevent child abuse and neglect, Childhelp operates treatment programs across the country and the free Childhelp National Child Abuse Hotline (1‑800‑4‑A‑CHILD). 
"We are seeing a significant spike in the need for our services in the wake of the pandemic," says O'Meara. "We are adding shifts so we have even more counselors available 24/7  — both at the Hotline and in our treatment programs nationwide. Our staff has been amazing. Everyone is working hard on our front lines and taking extra measures to protect these vulnerable children."
Front line care
"Children are scared and now many are trapped at home with their abusers and need to know where to turn for help," says Michelle Fingerman, the Executive Director of Childhelp's National Child Abuse Hotline. "Adults are scared too. Abuse goes up in times of stress and economic anxiety, and we immediately began seeing an increased need for our services as the coronavirus closures went into place. But that's why we are here. We know how to help in times of crisis."
"In each of our child abuse treatment programs, we are experiencing an increased need for our services — but also amazing stories of the larger community coming together to help us," says Denise Biben, Childhelp's Chief Program Officer. "For our programs providing residential and on-site treatment to child abuse victims, our program directors have had to be even more vigilant about making sure we have the supplies on hand we need. So, for example, when we couldn't get enough milk delivered to our group homes for children in California, a local grocer — Stater Brothers Market in Costa Mesa — helped us out. And in Virginia, a group of volunteers from the Lake of the Woods community sewed 170 masks by hand for our staff who are working at our residential treatment program for abused children.  
"It's those kinds of acts of kindness, for children who were raised in violent and scary households, that make us especially grateful to our whole wide network of communities of supporters and donors across the country. And, of course, we are most grateful to our staff on the front lines. They are on duty, taking even more precautions to treat, heal and protect these children."
History of Hope
Childhelp founders Sara O'Meara and Yvonne Fedderson worked with President Jimmy Carter to designate the first Child Abuse Prevention Month and with President Ronald Reagan to formally designate every April as Child Abuse Prevention Month in the United States. Leaders in the United States Congress from both parties then worked with Childhelp to officially recognize the first Wednesday in April each year as the Childhelp National Day of Hope for child abuse victims and survivors.
Some Important Numbers this Month:
5: the number of children that die every day in the United States as a result of abuse and neglect;
20%: the rate of increase in calls to the Childhelp National Child Abuse Hotline in the wake of pandemic anxiety and school closures*
439%: increase in texts to the Childhelp National Child Abuse Hotline comparing March 1-24 2019 to March 1-24 2020, with texts and online chat surging in the wake of pandemic anxiety and school closures*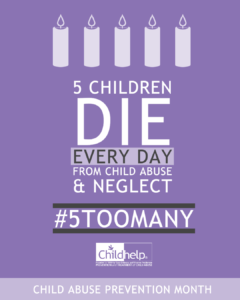 *The Childhelp National Child Abuse Hotline is the only federally recognized national crisis hotline to offer text and online chat in addition to phone calls. The stunning increase in incoming texts in part reflects increasing awareness of the service since its February 2019 launch, but Hotline staff reports young people are much more likely to reach out over text and online chat than over the phone. Further, they add, many who have reached out are scared, stressed and anxious right now — and too often, isolated with their abusers.
###
About Childhelp: Founded by Sara O'Meara and Yvonne Fedderson in 1959, Childhelp has brought the light of hope and healing into the lives of more than 10 and a half million children as a leading national nonprofit organization dedicated to helping abused, neglected and at-risk children. Childhelp's programs and services include residential treatment, children's advocacy centers, therapeutic foster care, group homes and child abuse prevention, education and training. The Childhelp National Child Abuse Hotline serves children and adults nationwide 24/7 through phone, text and online chat. For more information, visit childhelp.org and follow Childhelp at facebook.com/childhelp, instagram.com/childhelp and twitter.com/childhelp.