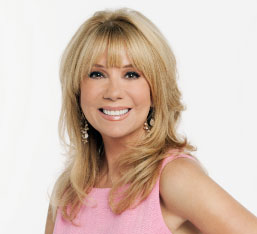 Kathie Lee Gifford
Television host, singer, songwriter, actress, author and playwright
Kathie Lee Gifford is a television host, actress, singer, songwriter, author and playwright. She is best known for her 15-year run on the talk show Live with Regis and Kathie Lee. Kathie Lee has received 11 Daytime Emmy nominations and won her first Daytime Emmy in 2010. She has been seen on Name that Tune, NBC's Today Show, The Insider and Good Morning America. Currently Kathie Lee is the co-host of the fourth hour of Today on NBC and will soon have the musical rendition of her play debut on Broadway, Scandalous: The Life and Trials of Aimee Semple McPherson (November, 2012).
Kathie Lee has been involved with Childhelp as a celebrity ambassador for 20+ years. She is the spokesperson for Childhelp's Speak Up Be Safe abuse prevention education curriculum. Kathie Lee has often appeared and spoken at the Childhelp National Day of Hope on Capitol Hill, and was a Childhelp's Woman of the World award recipient.
Kathie Lee often mentions Childhelp on Today, helping to raise national awareness and selflessly donates immeasurable proceeds from all of her children's books and CD's.
Click here to see Kathie Lee Gifford talk about Childhelp National Day of Hope on The Today Show.