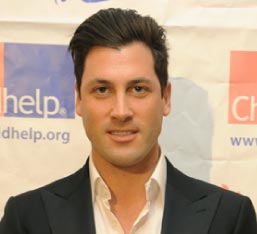 Maksim Chmerkovskiy
Professional ballroom dancer, choreographer and instructor
Maksim Chmerkovskiy Ukrainian-American Ballroom dance champion, choreographer and instructor, Maksim Chmerkovskiy was born on January 17, 1980 in Odessa, Ukraine. Maks began dancing at the age of four and by his teenage years, his talent had taken him to a competitive level. He was introduced to television audiences in 2006, when he first appeared on ABC's #1 hit television show, Dancing with the Stars. With a passion for teaching, Maks founded his first dance studio in 1997, Rising Stars Dance Academy (RSDA), located in Saddle Brook, New Jersey. The success of RSDA led Maks to launch one of the nation's leading Latin and Ballroom dance studios, Dance With Me, which currently has four locations; Ridgefield, New Jersey, Long Island, New York, Stamford, Connecticut and New York City, New York.
Maks has contributed his expertise and choreography skills to shows including Le Rêve – The Dream at Wynn Las Vegas, Broadway's Burn the Floor and additional television spots. Maks is spearheading and implementing a dance-based Art Therapy program at Childhelp.
Click here to see Maks talk about Childhelp on the Hallmark, Home and Family Show.