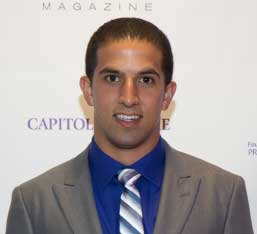 Paulie Harraka
NASCAR Driver, Duke University Alum, Entrepreneur
Paulie Harraka has been a Childhelp Ambassador since 2009. At that time, Harraka was a full-time NASCAR driver, and leveraged his position as a professional athlete to drive awareness and fundraising for Childhelp. Childhelp's logo and hotline were featured on his race vehicles at multiple events and he wore a helmet designed by children at Childhelp's villages.
After winning 14 NASCAR races and a NASCAR championship, Paulie retired from full-time race driving. Even so, he has continued working with Childhelp, collaborating with National and with multiple Chapters on fundraising and volunteer initiatives.
Paulie completed his Bachelor's degree at Duke University and is currently pursuing his MBA at Stanford University's Graduate School of Business.