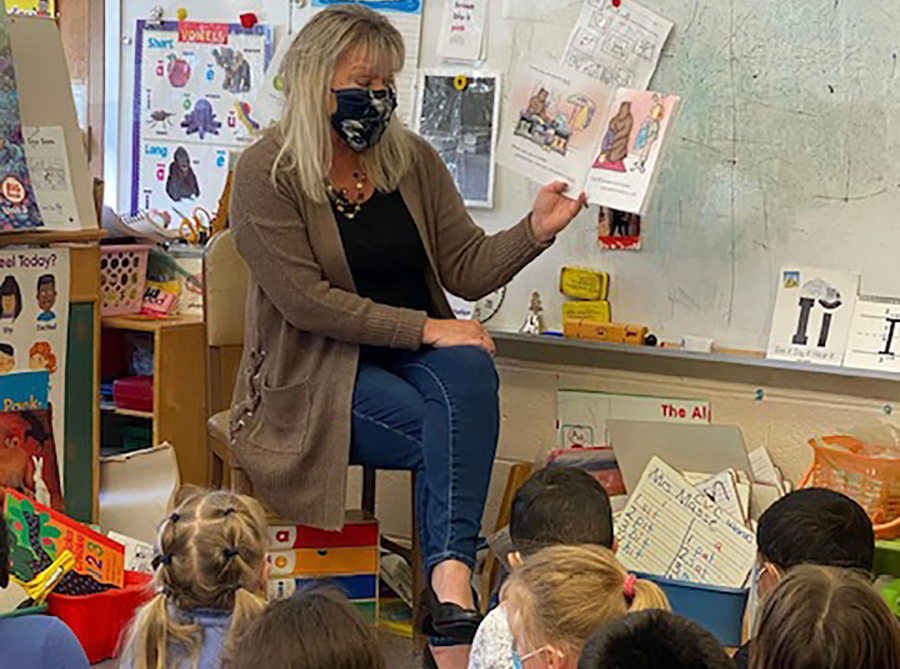 CHILDHELP: Tell our audience a little bit about yourself.
KATHY: I live in Ludlow, MA and have been an advocate for child sexual abuse prevention for 25 years. I live with my husband Gary of 25 years and our fur-daughter, Abby, who thinks she is human! She joins me to speak to survivors to inspire them to share their stories, letting them know it's not their fault and they are not alone.
CHILDHELP: You know from visiting our programs how critical animal therapy is to our work as well. What kinds of people are you educating about sexual abuse?
KATHY: I speak with behavioral health professionals, community members, legislators, correctional facility staff, hospitals, colleges, other survivors, and I love reaching out to children directly.  I never say no when asked to present.

Professionals in areas of law enforcement are so important to me because my abuser was an auxiliary police officer. He threatened me not to tell, said no one would believe me, and that I would get in trouble. He told me that if I came forward, my parents would divorce and my sister and I would be put in foster homes. "They'll take away your pets," he said. He would even threaten me with his gun.  
CHILDHELP: I'm so sorry you experienced that. Your book detailed much of the brutality you endured. What was it like to put yourself out there publically?
KATHY: Writing Life with My Idiot Family A True Story of Survival, Courage and Justice over Childhood Sexual Abuse was a healing journey for me. My husband helped me tell my story and it took five years to write. I mention Childhelp and all the wonderful things you do in that story. I hope it inspires others to use their voices for change.
CHILDHELP: I bet it already has. You also have a children's book out. Tell us about it.
KATHY: I love you so much that… is geared for Kindergarten to 4th grade. Kids love this educational book that teaches them many lessons, such as the importance of eating your vegetables, wearing a coat, paying attention to your teachers, not talking to strangers, and that your private parts are private.
CHILDHELP: Brilliant. We must normalize the prevention conversation as part of everyday self-care for children.
KATHY: Exactly. The kids like the fact that my 12 year old Schnauzer, Abby, is part of the story and "paw signs" the books. I want parents not just to have a one-time conversation, but to read the book over and over and have the body safety talk often.

The new edition is awesome with activity pages in the back of the book to engage young minds in order to help them retain the story's heartfelt message. Next month the book will be bilingual, in Spanish, to offer to more audiences a message of safety and love.
CHILDHELP: You are a trained Childhelp Speak Up Be Safe prevention education facilitator. Where do you share our curriculum in your community?
KATHY: I've taught Childhelp Speak Up Be Safe in several places, like the YMCA. The children are really engaged. They take to the lessons and share their feelings. The problem with prevention these days is the adults in the schools. Some parents confuse it with sex education. The superintendents don't make it a priority. Many principles don't even return my calls or email requests to share more about these resources to keep kids safe. It's sad when you want to help and get no answer at the other end of the line.
CHILDHELP: Upsetting. We're fortunate to have some great scholastic partners, but there are those that don't get it and it is the kids that suffer. We're impressed you still found a way to share our safety rules within your community. We loved meeting you when you visited our headquarters for the first time.
KATHY: I was so honored to visit Childhelp and see firsthand all the wonderful things you stand for. I talk about you guys all the time and list Childhelp on my resource sheet and PowerPoint presentations. The experience of going to Arizona will always be cherished. Meeting the Founders, Sara O'Meara and Yvonne Fedderson, and knowing what they do, experiencing their kindness, and seeing what true women they are…it was amazing!