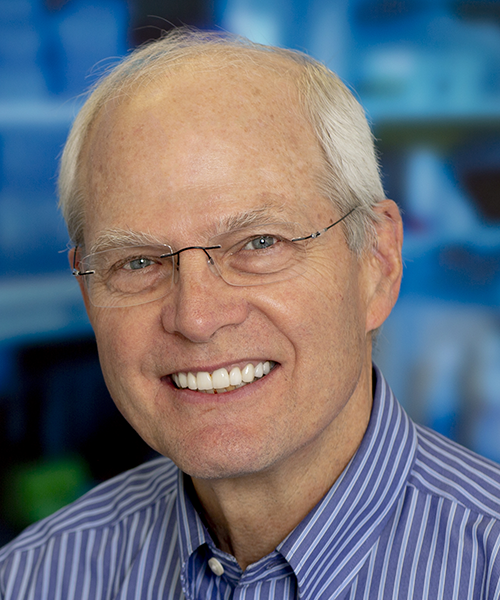 Michael Berens
Board Member
I am a scientist/entrepreneur, successfully and uninterruptedly garnering competitive peer-reviewed funding from the National Institutes of Health since 1992. My greatest fulfillment in co-founding TGen, the Translational Genomics Research Institute*, is the active role of mentor and coach afforded me in enabling future scientists, leaders, and entrepreneurs. In its 20 year history, TGen has launched over 20 biotech start-up companies, and fueled the academic careers of dozens of thought-leaders in the disciplines of cancer research, drug discovery, neurological disorders, diabetes, bioinformatics, and precision medicine.
TGen's mission is to alleviate suffering. Our tools are those of the genome, the blueprint for human biology. My personal research pursuit has focused on brain tumors in both adults and children. Working with families as they seek help amid a fatal diagnosis in their child, I've gained heightened, present-tense appreciation for the power of hope and the relief from coming along side those in crisis.
My career is predicated on collaboration and synergy among peers, accommodating wide ranges of partners in the for-profit, non-profit, and governmental sectors. In seeking common ground, and crafting "win-win" strategies shared benefit is derived by all parties.
Active participation on the ChildHelp National Board will give outlet to my leadership experiences forming teams to achieve its mission with urgency, respect, and integrity.
2012-Present Deputy Director, Institutional Initiatives, TGen, Phoenix, Arizona
2010-Present Professor & Head, Brain Tumor Unit, TGen, Phoenix, Arizona
2007-Present Professor (Adjunct), Dept Neurosurgery, College of Medicine, Mayo Clinic.
2003-2004 Chief Executive Officer, International Genomics Consortium, Phoenix, Arizona
2002-2010 Co-Founder, Senior Investigator & Head, Brain Tumor Unit, TGen, Phoenix, Arizona
2000-2002 Director, Division of Neurology Research, Barrow Neurological Institute, Phoenix
1999-2005 Co-Founder, Chair of SAB, Avolix Pharmaceuticals, Inc., Start-up biotech company
1997-2010 Founder, CEO, Creative Scientific Methods, Inc., Start-up biotechnology company
1990-2002 Staff Scientist, then Senior Staff Scientist, Barrow Neurological Institute, St. Joseph's Hospital and Medical Center, Neuro-Oncology Research Laboratory
1986-1990 Research Assistant Professor, University of California, San Francisco, Dept. of Neurological Surgery, Brain Tumor Research Center
1984-1986 Research Associate, Wake Forest University, Bowman Gray School of Medicine, Department of Ob/Gyn, Sect. Gyn Oncology
1982-1984 Postdoctoral Fellow, University of Zurich
1976-1982 PhD University of Arizona
1972-1976 B.S. Physiology, Arizona State University
Patents
2017 Genetic Signature of vulnerability to inhibitors of base excision repair (BER) in cancer. US Patent 9,637,798, May 2, 2017
2006 Cell Migration Inhibiting Compositions and Methods and Compositions for Treating Cancer, US Patent # 7,012,100. March 14, 2006.
1999 Guided cell sedimentation for biological studies. US Patent # 5,998,160, December 7, 1999.
1998 Induction of immune tolerance to tumor cells. US Patent # 5,723,718, March 3, 1998.