Childhelp Raises Record-Breaking $6.5 Million at 17th Annual Drive the Dream Gala, Honors Dr. Stacie J. Stephenson as "Woman of the World" and Introduces First "Man of the World"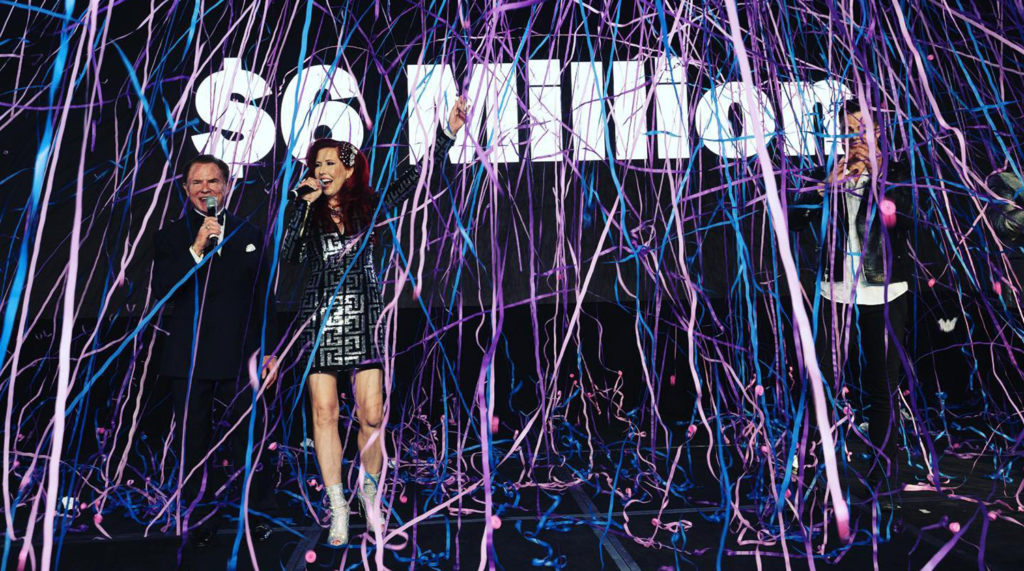 PHOENIX – Childhelp, the nation's oldest and largest nonprofit advocating for abused and neglected children, celebrated their 17th Annual Childhelp Drive the Dream Gala on Saturday, May 15, 2021, at the Arizona Biltmore Resort in Phoenix, raising $6.5 million for the prevention, intervention and treatment of child abuse. Celebrities, entertainers and supporters gathered for the sparkling celebration in support of Childhelp's programs and services, which have served 11 million children over more than 62 years. This year's event honored "The VibrantDoc" Dr. Stacie J. Stephenson, global philanthropist and bestselling author of VIBRANT, with the prestigious "Woman of the World" award, and philanthropist and prominent investor Foster Friess with the first-ever "Man of the World" award.
Proceeds from the event directly support the lifesaving services provided to abused and neglected children in Phoenix through the Childhelp Children's Center of Arizona Dedicated to Linda Pope (CCCAZ). Ivy Ciolli and Tracy Katz, this year's chair and co-chair, chose this year's theme – "Don't Let Their Dreams Be Just Dreams" – as a way to honor childlike wonder while calling attention to the pressing issue of child abuse and neglect, particularly during the COVID-19 pandemic.
"The COVID-19 pandemic has been difficult for so many, but particularly this country's most vulnerable, children that suffer abuse and neglect," said Childhelp Co-Founder, Chairman and CEO Sara O'Meara. "We are honored, grateful and blown away to have the support of so many as we come together to help children in our state recover from this pandemic and find hope and healing."
Childhelp Co-Founder, Vice-Chairman and President Yvonne Fedderson added, "So many abused and neglected children have been stripped of their ability to dream and aspire for a brighter future. At the Childhelp Drive the Dream Gala, the generosity and heart of our amazing supporters, volunteers and sponsors was on full display. Their gifts aid us in our mission to restore those dreams and help children realize that they can be anything they want to be."
Childhelp bestowed the honor of the Childhelp Woman of the World Award to bestselling author and philanthropist, The VibrantDoc, Dr. Stacie J. Stephenson. With this award, Dr. Stephenson finds herself among notable previous award winners including Oprah Winfrey, Kathie Lee Gifford, Betty White, First Ladies Nancy Reagan, Barbara Bush, and Laura Bush, and most recently, Melani Walton. From chairing Childhelp's biggest events to sharing her compassionate spirit and dedication for the organization's programs and services, Dr. Stephenson epitomizes the essence of the esteemed award by sharing her talent on the big stage and her heart with children in need. Her latest endeavor, VibrantDoc, takes this a step further by instilling knowledge, confidence, and inspiration in others.
Actress Melissa Peterman from the hit TV shows "Baby Daddy," "Young Sheldon" and "Reba" emceed this year's event for the fourth time. Additional notable attendees included devoted "Dancing with the Stars" couple Maks Chmerkovskiy and Peta Murgatroyd, actor Dolph Lundgren, actress Jen Lilley, artist and professional tennis star Kialani Mills, Arizona Governor Doug Ducey, former Vice President Dan Quayle, former U.S. Senator John Kyl, and Maricopa County Sherriff Paul Penzone. Childhelp Youth Ambassador Rosevelt Rawls performed "America the Beautiful" alongside the Maricopa County Sheriff's Office Honor Guard.
Grammy, Tony, and Emmy Award-nominated singer, songwriter and actor Josh Groban headlined the night with his iconic voice from a virtual stage with a song dedicated to Childhelp Woman of the World Dr. Stacie J. Stephenson. Marc Martel opened and closed the show with his distinct vocals, which were featured heavily on the soundtrack for one of the highest grossing biopics in movie history, "Bohemian Rhapsody." Loren Allred, best known for her jaw-dropping vocal performance of "Never Enough" on the Oscar nominated and Grammy award winning "The Greatest Showman" soundtrack and film, performed an outstanding solo performance, as well as a duet with soulful Southern vocalist John Glosson, who shot to success on the ABC show Duets starring Kelly Clarkson, John Legend, Robin Thicke, finishing runner-up alongside the amazing and talented Jennifer Nettles. Glosson also performed a solo song dedicated to Childhelp Man of the World Foster Friess. Flo Rida, one of today's most recognizable superstars, took the stage at the gala afterparty, delighting guests with his hit singles, including the RIAAA 7x platinum certified hit, "Low."
Childhelp also honored Foster Friess with its first ever Childhelp Man of the World Award. Mr. Friess has provided relief and assistance for numerous causes across the world, including extensive support for the children of Childhelp. His philanthropic work has been honored with several awards, including the Horatio Alger Award, the Muhammad Ali Humanitarian Award, Canterbury Medal, Adam Smith Award and more. Forbes named Mr. Friess along with John Templeton and Warren Buffett among the Ten Most Outstanding money managers of this generation. Childhelp chose to honor Mr. Friess with this inaugural award to celebrate his lifelong legacy of intellect, generosity and goodness that has forever left a mark on the world. His many accolades and lifetime achievements celebrate a great life, and he will set a high bar for future awardees.
The Chandler-based RV dealer SportTruckRV received the Childhelp Nellie Jackson Award, which is named for the late Nellie Jackson, co-founder and matriarch of the Barrett-Jackson collector car auction. SportTruckRV was honored for the numerous fundraising events it hosts in Childhelp's honor, including the annual SportTruckRV High-Performance Driving Experience & Charity Event.
The gala's live auction brought in an exciting $760,000 thanks to generous auction item donors, including Dr. Curtis Dickman, fashion designer Zang Toi, Don Dady, and Cuvée. Cuvée donated luxurious and immersive travel packages, including two 7-night stays at Cuvée's Tuscan Farmhouse Estate in Italy and a week-long stay at Cuvée's Hualalai Estate on the Big Island of Hawaii, selling for a combined $570,000. Cuvée is also donating 10 percent of proceeds back to Childhelp for any future reservations from Childhelp supporters through Dec. 31, 2021.
Premier Sponsors of the event included Mr. Richard J Stephenson and Dr. Stacie J. Stephenson, VibrantDoc, NFP The Hebets Company, and Ira Gaines and Cheryl Hintzen-Gaines. Platinum sponsors included the Hammered Heart Foundation, The Florkiewicz Family Foundation and The Rob and Melani Walton Foundation.
About Childhelp: Founded by Sara O'Meara and Yvonne Fedderson in 1959, Childhelp® has brought the light of hope and healing into the lives of more than 11 million children as a leading national nonprofit organization dedicated to helping abused, neglected and at-risk children. Childhelp's programs and services include residential treatment services, children's advocacy centers, therapeutic foster care, group homes and child abuse prevention, education and training. The Childhelp National Child Abuse Hotline serves children and adults nationwide 24/7 through phone, text and online chat. For more information, visit www.childhelp.org and follow Childhelp at facebook.com/childhelp, instagram.com/childhelp and twitter.com/childhelp.
###
Media Contact: Cindy Dempski, Gordon C. James Public Relations, cdempski@gcjpr.com, 602.400.6284