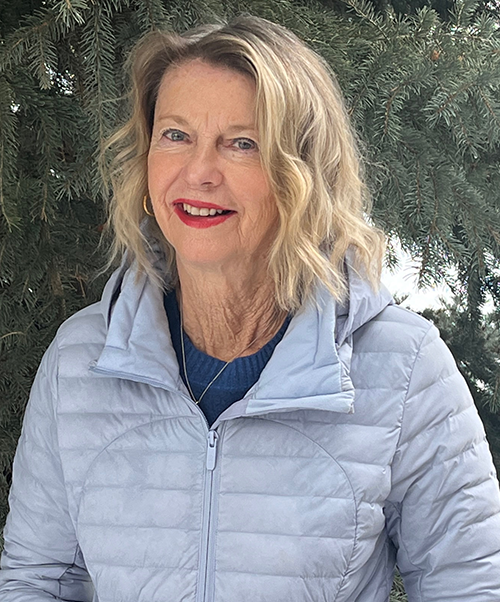 Connie Olsen, LMSW
Board Member
Currently, I'm semi-retired. I work part time with Know Your Strengths, a full-service company that helps its clients with employee development, job modeling, recruiting, hiring and executive coaching.
I also work as a volunteer for a community service organization located in Gallatin County, Montana. Love In The Name of Christ (LOVE INC) is a 501 c3 non-profit organization that mobilizes the resources of local churches, businesses and individuals to help meet the temporary needs of individuals and families in Gallatin County, Montana. LOVE INC offers its services at no charge. Services include providing food & clothing, trauma recovery classes, life skills classes, guidance with personal finances, car repair, home repair, furniture, linens and so much more.
From 2018 -2019, I was the sole Licensed Clinical Social Worker at the Pioneer Medical Center in Big Timber, Montana.
During 2018-2019, I was a Volunteer with the Montana Help Center Hot Line. We handled crisis calls from people in need throughout Montana.
From 2003-2018, I was a Medical Social Worker with Livingston HealthCare in Livingston, Montana. I was initially hired by LHC in 2003, to serve as their Hospice/Homecare social worker. Through the years, my duties were expanded to include the delivery of medical social work services on behalf of Hospice, Bereavement, Swing Bed, ER, ICU, Medical Surgical Unit and Oncology/Outpatient staff. I obtained my Licensed Clinical Social Worker certification in 2007.
My focus has always been on helping patients and their families deal with the psychosocial, financial, and spiritual aspects of a patient's illness. I feel fortunate to have been able to participate in the extensive expansion of social services being provided during my time at LHC.
I pride myself on being a team player and I enjoy participating as a member of an interdisciplinary team that strives to meet the needs of patients and their families. I have always enjoyed opportunities that enable me to use my educational background, work experience and passion to help others. In the work that I do, I've always enjoyed the challenge of finding creative solutions to complex problems.
Work Experience
1987-Present – Childhelp National Board of Directors
*Participated in providing board oversight to the operations of Childhelp.
*Current chairman of the Program and Quality Assurance Committee.
1992-2000 – Childhelp/Virginia
*Founding Board Chair, Childhelp/Virginia
*Founded a regional Childhelp Chapter
*Guided the setting of policy and procedures
*Helped to create, fund and operate the Alice C. Tyler Village of Childhelp, a residential treatment facility for abused children located on 271 acres in Culpeper, Virginia
*Member of a team that successfully obtained a "Joint Commission Accreditation" for the Alice  C. Tyler Village of Childhelp
*Helped to initiate a child abuse prevention program in the K-12 schools in the metro areas of Washington, DC, Virginia, and Maryland.
2002-Present – Know Your Strengths
2003-2018 – Livingston HealthCare  – Medical Social Worker (LCSW certification in 2007)
*Performed thorough psychosocial evaluation of each patient/family admitted to Home Care/Hospice/Swing Bed or the Medical Surgical Unit.
*Developed appropriate care plans and followed up as necessary.
*Facilitated communications with the Home Care/Hospice/Swing Bed/Medical Surgical teams regarding the social factors involved with the patient's situation that may have a bearing on his/her medical situation.
*Remained knowledgeable on available community resources and shared information with co-workers, patients and their families.
*Provided bereavement therapy to Hospice patients and families as well as to assisted-living and nursing home employees.
*Educated and assisted patients on the preparation of advance directives.
*Spoke to community groups as requested about Home Care/Hospice, Advanced Directives, Bereavement and other end-of-life issues
*Worked collaboratively with other health care providers both within and outside of Livingston HealthCare.
2018-2019 – Volunteer with the Montana Help Center Hot Line
2019-2019 – Licensed Clinical Social Worker with Pioneer Medical Center in Big Timber, MT
2019-Present – Volunteer with Love In The Name Of Christ (LOVE INC)
Education
1966-70 – B.S., Social Work – Utah State University
1972 – Post Graduate Teaching Certificate – Utah State University
2002-2003 – Master's Degree in Social Work, (Walla Walla College)
2007 – Licensed Clinical Social Worker Certification (LCSW)
2011 – Respecting Choices – Advance Care Planning Facilitator
2013 – Advanced Certified Hospice and Palliative Social Worker (ACHP, PSW)