Childhelp and Q5id formed an exciting new partnership in February 2022!
As partners, we have an immense opportunity to advocate for child safety by spreading awareness and educating as many people as possible about child abuse.
The more people who are informed, the more children we can keep safe.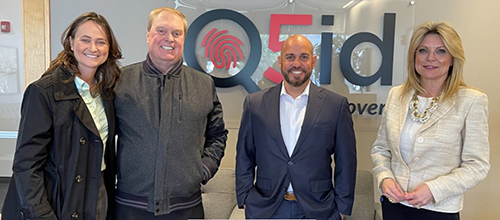 Q5id is committed to helping support Childhelp life-saving programs like Childhelp Speak Up Be Safe that brings prevention education to thousands of military families, children and educators nationwide. As a leader in identity proofing services, Q5id's shared goals of keeping children and families safe has inspired them to team up with Childhelp to boost awareness of and lend support to the Childhelp mission
Steve Larson, Q5id's CEO, initially learned about Childhelp through Childhelp Celebrity Ambassador John O'Hurley, and connected strongly with the Childhelp mission, "We're proud of the positive impact our business will have on children through our work with Childhelp. Q5id members, customers and associates can take pride in the fact that, together, we are backing Childhelp's tireless work in the intervention, treatment, and prevention of child abuse. Together we will save lives." Q5id intends to donate at least $125,000 per year to help support Childhelp's life-saving programs.