FOR IMMEDIATE RELEASE: March 21, 2022
Interviews, photos and b-roll available upon request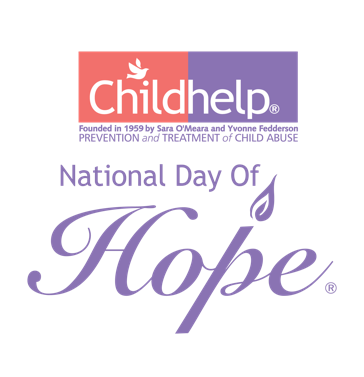 WASHINGTON, D.C. – Wednesday, April 6, 2022, marks the annual Childhelp National Day of Hope in Washington, D.C., where volunteers and advocates from across the country will virtually meet with members of Congress to educate leaders about essential legislation that supports victims of child abuse and neglect.
This annual event is an important opportunity to remind lawmakers that five children die every day in the U.S. as a result of child abuse and neglect. Childhelp Founders Sara O'Meara and Yvonne Fedderson worked alongside President Jimmy Carter to establish April as Child Abuse Prevention Month in 1979. In 2000, Congress unanimously voted to designate the first Wednesday of each April as Childhelp National Day of Hope.
Childhelp, the nation's oldest and largest nonprofit dedicated to the treatment and prevention of child abuse, provides treatment programs across the U.S. for victims of abuse and runs the only national helpline for child abuse and neglect, the Childhelp National Child Abuse Hotline (ChildhelpHotline.org)
"Child abuse is reported every 10 seconds in this country," Childhelp Co-Founder and CEO Sara O'Meara said. "Childhelp has fought for more than six decades to help children in need and we urge all our elected officials to continue to join us in this fight to save lives."
This year, Childhelp volunteers will be getting support from a group of students in Washington, D.C. who are launching an awareness campaign at their local high schools to help more students learn how to reach the Childhelp National Child Abuse Hotline.
"We have students throughout the Washington, D.C. area who are going to be popping up in purple t-shirts letting fellow students know that 1-800-4-A-CHILD is the number to call, text or online chat with counselors any time they need a place to turn," Childhelo Co-Founder and President Yvonne Fedderson said. "We know peer-to-peer education is one of the best ways for students in need to learn about the Hotline. We are grateful these students are stepping up to help save lives in the nation's capital and across the country."
In 2021, Childhelp National Child Abuse Hotline Spokesman John Stamos released a public service announcement to call attention to this lifesaving resource and highlight the dire need victims of domestic violence have been facing throughout the COVID-19 pandemic. Recent research published online in JAMA Pediatrics, authored by Dr. Robin Ortiz and team, highlights the role Childhelp played in the national public health response at the intersection of COVID-19 and child abuse. The study found a 13.75 percent increase in total number of Childhelp National Child Abuse Hotline inquiries in 2020 compared to 2019.
Childhelp encourages others to participate in Childhelp National Day of Hope by lighting five candles in honor and remembrance of the five children who die every day from child abuse and neglect, and share the number 1-800-4-A-CHILD for the precious children still battling for their lives
###
About Childhelp: Founded by Sara O'Meara and Yvonne Fedderson in 1959, Childhelp has brought the light of hope and healing into the lives of more than 11 million children as a leading national nonprofit organization dedicated to helping abused, neglected and at-risk children. Childhelp's programs and services include residential treatment services, children's advocacy centers, therapeutic foster care, group homes, a national hotline, and child abuse prevention, education and training. For more information, visit www.childhelp.org and follow Childhelp at facebook.com/childhelp, instagram.com/childhelp and twitter.com/childhelp.
The year 2022 marks the 40th anniversary of the Childhelp National Child Abuse Hotline, 1-800-4-A-CHILD, the national toll-free hotline staffed 24/7 by professional counselors available for victims, survivors, caregivers, or anyone in need of help. Assistance is available through call, online chat or text.
CONTACTS:
Rebecca Cooper
Vice President of Public Affairs
Childhelp, Washington DC
rcooper@childhelp.org
Cell: (202) 345-4864
Savannah Harrelson
Public Relations Manager
Childhelp National Headquarters, Scottsdale
sharrelson@childhelp.org
Cell: (208) 861-1609