The newest release of the research-based Childhelp Speak Up Be Safe curriculum includes a more interactive delivery, PowerPoints with classroom slides, and facilitator scripts.
SCOTTSDALE, AZ – Childhelp launched a dynamic updated version of Childhelp Speak Up Be Safe, a primary prevention curriculum aimed at preventing child abuse. The July release is available to current and new users in time for the new school year as many students are returning to in-person instruction for the first time since the COVID-19 pandemic. For those teaching online, a mini-course helps adapt lessons for virtual use.
Childhelp Speak Up Be Safe is a child-focused, school-based curriculum for grades Pre-K through 12 designed to build safety skills while addressing today's societal risks, such as bullying and internet safety. The program focuses on enhancing the child's overall sense of confidence and provides skills to identify and be able to approach a safe adult in a situation where the child is unsure if he or she is safe.
This summer's launch is based on feedback from current users about the delivery of the curriculum. While the research-based and tested-effective core curriculum has not changed, the new updates should allow for smoother, more user-friendly delivery. The Childhelp team wanted to ensure ease of delivery as so many children have not received advocacy during the pandemic and school may be the first place victims of maltreatment can come forward to be rescued.
A PowerPoint presentation has been added for each lesson, which includes presentation slides and scripts for seamless two-screen presentation with horizontal orientation. Training modules now have interactive delivery and allow users to pause and resume each module as needed. Child abuse statistics have also been updated to reflect the most up-to-date information.
Childhelp Speak Up Be Safe provides two 30- to 45-minute lessons per grade level, delivered by teachers or school personnel that have completed the facilitator training. Children and teens participate in interactive, engaging lessons that are age and developmentally appropriate. Lessons are reinforced with handouts, take home items and activities. The ecological approach includes materials and resources for students, teachers, facilitators, parents, administrators and community members, which aim to help build a safety network to protect children from abuse and neglect. Facilitators have 24/7 access to the online training and curriculum.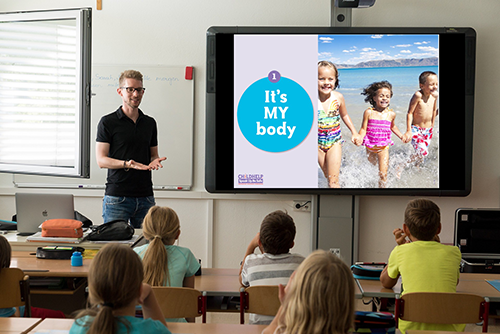 Ongoing studies by Arizona State University's Southwest Interdisciplinary Research Center have examined the efficacy of Childhelp Speak Up Be Safe for K-12 students and found the curriculum statistically effective as a universal prevention program and suited for a diverse student body. Other studies have found that facilitators felt the curriculum appropriately covered sexual abuse, physical abuse and neglect while empowering children with safety information. These lessons may be the first time a child who has been quarantined with an abuser learns that what happened was wrong, that brave survivor deserves help and the abuse was not his or her fault.
A preview of curriculum and supporting materials is available through the Childhelp Speak Up Be Safe website at www.childhelp.org/speakupbesafe or by contacting speakupsupport@childhelp.org.
Media Contact: Savannah Harrelson, sharrelson@childhelp.org, 208-861-1609
###
About Childhelp: Founded by Sara O'Meara and Yvonne Fedderson in 1959, Childhelp® has brought the light of hope and healing into the lives of more than 11 million children as a leading national nonprofit organization dedicated to helping abused, neglected and at-risk children. Childhelp's programs and services include residential treatment services, children's advocacy centers, therapeutic foster care, group homes and child abuse prevention, education and training. The Childhelp National Child Abuse Hotline serves children and adults nationwide 24/7 through phone, text and online chat. For more information, visit www.childhelp.org and follow Childhelp at facebook.com/childhelp, instagram.com/childhelp and twitter.com/childhelp.