The 15th annual fundraiser featured celebs, valley families, and local fashion, all to support Childhelp's programs and services in Arizona
PHOENIX (April 24, 2022) – Fashion, fundraising and star-studded appearances converged at the JW Marriott Scottsdale Camelback Inn Resort and Spa on Sunday, April 24, for a festive fashion show fundraiser that netted nearly $325,000 to support Childhelp's programs and services, a record-breaking amount for this annual event.
The Alice in Wonderland themed event, titled "A Day in Wonderland," treated guests to special performances, live and silent auctions, jewelry raffles and meet and greets with storybook characters and therapy ponies Mazy and Buddy from Tender Little Hearts Equine Therapy. The fashion show highlighted spring trends from Saks Fifth Avenue Phoenix and local retailer Cheeky Chic Baby and Kids Boutique. Hair and makeup for the show was generously donated by Beauty by Veronica.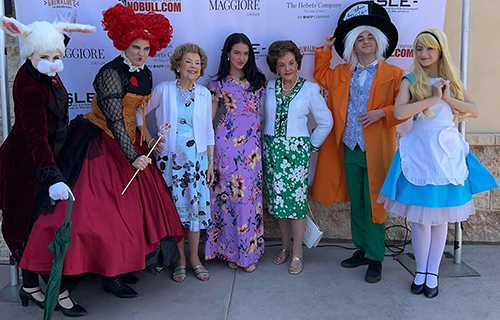 The family-friendly fashion show and luncheon welcomed children of all ages, from the tiniest tots up to teens. Celebrity model participants included actress Lilimar Hernandez, Maricopa County Sheriff Paul Penzone, and retired NFL players Adam Archuleta, Paul Kruger and Brian Jennings. FOX 10 Phoenix anchor Syleste Rodriquez emceed the event alongside TV personality and two-time New York Times Bestselling author, Chris Powell.
Childhelp honored three valley philanthropists making a difference for Arizona children and families. Longtime Childhelp Wings member Carey Pauley received the 2022 Childhelp Helping Hand Award while Laurie and Bill Eckholm were honored with the 2022 Childhelp Wings of an Angel Award. Presenting sponsors for the event were Earnhardt Lexus, NFP The Hebets Company, The Maggiore Group, Grimaldi's Pizzeria and Steve LeVine Entertainment.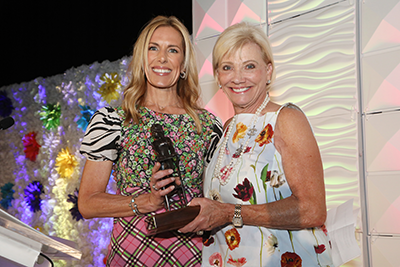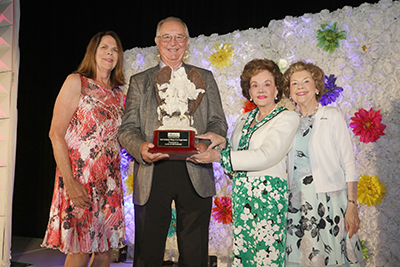 Event chairs Jennifer Archuleta and Jamie LeVine, in partnership with the "Founding Mother" of Childhelp Wings, Carol Hebets, chose this year's theme to highlight the childlike wonderment that features heavily in the classic tale Alice in Wonderland. Proceeds from the fundraiser directly benefit children receiving services at the Childhelp Children's Advocacy Center of Arizona dedicated to Linda Pope.
"This year's event perfectly encapsulated the giving spirit of so many men, women and children who volunteer their time, talent and treasure to help vulnerable children, especially at a time when we are still seeing an increase of devastating cases of child abuse due to the COVID-19 pandemic," Childhelp National Board Member and Wings Founding Mother Carol Hebets said. "By uniting fashion and fundraising, we are able to take huge leaps (down the runway) to end child abuse and help heal hearts."
Headquartered in Scottsdale, Arizona, Childhelp is the nation's oldest and largest nonprofit dedicated to helping abused, neglected and at-risk youth. In 2020, Childhelp served over 30,000 Arizona children and families through prevention, intervention and treatment programs such as Childhelp Speak Up Be Safe and the Childhelp National Child Abuse Hotline.
The Childhelp Arizona Wings Chapter is made up of volunteers who help educate youth about issues surrounding child abuse and neglect through service projects and fundraisers. Originally established to celebrate the relationship between mothers and daughters while instilling the value of serving others, it has now expanded to include mothers, fathers, grandparents, aunts, uncles, and children under the ages of 18.
###
About Childhelp
Founded by Sara O'Meara and Yvonne Fedderson in 1959, Childhelp® has brought the light of hope and healing into the lives of more than 11 million children as a leading national nonprofit organization dedicated to helping abused, neglected and at-risk children. Childhelp's programs and services include residential treatment services, children's advocacy centers, therapeutic foster care, group homes and child abuse prevention, education and training. The Childhelp National Child Abuse Hotline serves children and adults nationwide 24/7 through phone, text and online chat. For more information, visit www.childhelp.org and follow Childhelp at facebook.com/childhelp, instagram.com/childhelp and twitter.com/childhelp.