The University of Tennessee at Knoxville Kappa Delta Chapter recently presented a $44,437.33 donation to Childhelp at a special ceremony and check presentation on May 11. These funds will support at-risk, neglected and abused children served through Childhelp's Tennessee programs.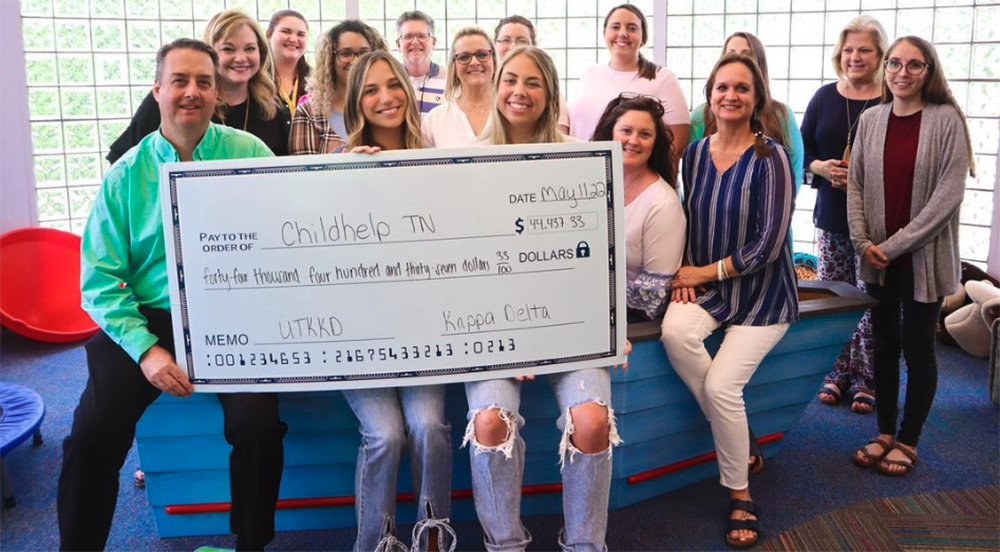 A long-time supporter of Childhelp, the sorority hosts events, activities and fundraisers throughout the school year as part of their philanthropic goals. Each year, the sorority sets a dollar amount to hit, and this year's total was a record number.
"We appreciate and value our partnership with Kappa Delta and all that they do every year to help us provide needed services to the children of our community," Childhelp Tennessee Executive Director Kenneth Bender said. "Kappa Delta's donation this year will help fund our clinical services department so we can increase capacity and see more children in therapy. With a waitlist of almost 70 children, Childhelp's specialized services are in demand and Kappa Delta is a great partner in helping us meet that demand. We are proud of these young women and the leadership role they take through their philanthropy and caring for our community, their efforts are a true showing of how to lead by example."
Childhelp's programs and services in Tennessee include the Childhelp Children's Advocacy Center and the Childhelp Foster Family Agency of East Tennessee, both located in Knoxville. The Childhelp National Child Abuse Hotline and Childhelp Speak Up Be Safe abuse prevention curriculum also serve youth and families throughout the state.
Since 1995, the Childhelp Children's Center has provided services to treat and investigate child abuse and neglect under one roof: medical personnel, law enforcement, child protection investigators and mental health professionals. The professionals help reduce secondary trauma to the child and produce reliable evidence to support cases against perpetrators. Childhelp's foster care and adoption services provide short and long-term therapeutic foster care to abused and neglected children by matching children in need with warm, loving families who can provide a caring and safe environment. Childhelp wholeheartedly thanks the Kappa Delta Chapter for its ongoing service and support of local children in the Tennessee community.