A group of Maryland high school students have teamed up to help spread the word about the Childhelp National Child Abuse Hotline. Students at Bethesda-Chevy Chase High School created t-shirts emblazoned on the front with the message "NEED HELP?" and on the back information about how to call, text or online chat with the Hotline. The students say they wanted to give fellow students a way to learn about how to reach out to the Hotline without having to even acknowledge that they are suffering from abuse or neglect. The students are wearing the shirts to school throughout the month of April for Child Abuse Prevention Month.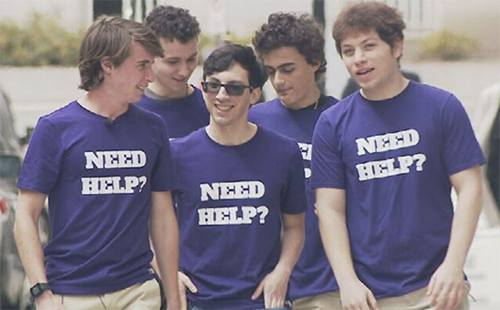 "This could be my neighbor, this could be a student at my school, this could be anybody," senior Gus Dupin told ABC7 News Washington in a media profile about the campaign. "And it doesn't just have to be about the normal idea of child abuse, like a parent hitting their child, it could be sexual assault, it could even be bullying, which is prevalent in high school. And it's important that they hear about that from a fellow student," Dupin said.
Dupin – the son of Childhelp's Vice President of Public Affairs Rebecca Cooper – organized a group of 25 students to help spread the word with the t-shirt campaign in April and they are helping other schools launch the NEED HELP? campaign.
The campaign has been praised by elected officials who touted the student-led efforts on Twitter and applauded by Childhelp co-founders Sara O'Meara and Yvonne Fedderson.
"We are so proud of these students for sharing this important information," said Sara O'Meara, at a luncheon in Washington DC helping launch the campaign. "When a student talks to another student, it's a whole different story than when an adult does. These young people can reach others in a very powerful way."
To learn how to launch a similar t-shirt campaign in a school in your area, please contact Rebecca Cooper at rcooper@childhelp.org.