Childhelp Wings Trick-or-Trot Event Puts PTSD-Soothing Strategies into Action
Community, self-care, exercise, art therapy and doing something kind for others. These are just a few ways those suffering from Post-Traumatic Stress Disorder can regulate some of the tough symptoms of traumatic events. At Childhelp, we practice what we preach and try to find ways to educate the community in our methods. The Childhelp Wings Trick-or-Trot Walk/Run was a great way to engage in some family fun while getting a glimpse at the work we do every day to help heal hearts.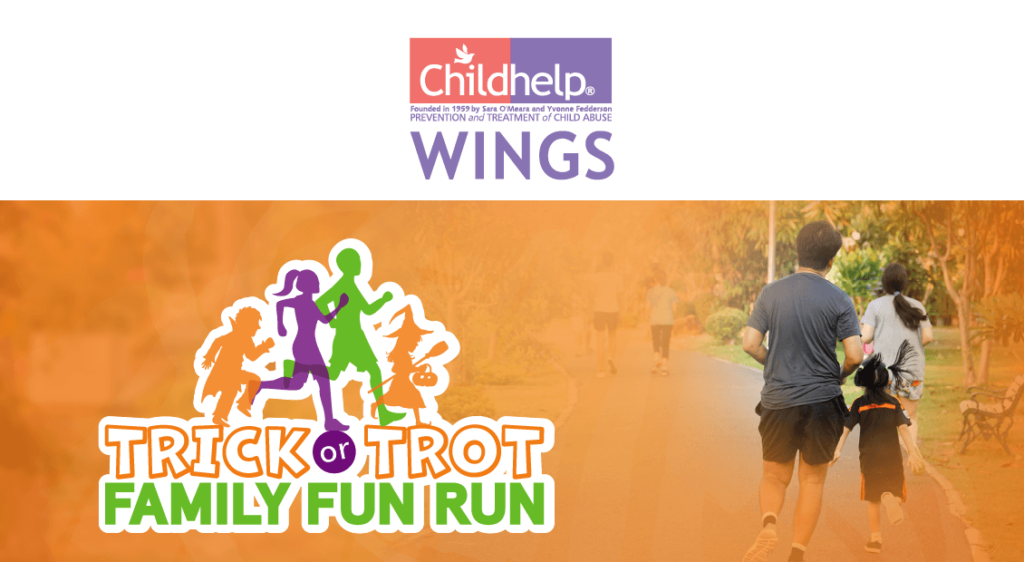 ---
WALKING:
As children and caregivers chose between 1 mile or 2.8 miles trails at McCormick Ranch Golf Club Resort, they had the chance to try out a great technique that helps our littlest survivors put one foot in front of the other on the path to healing: Walking.
In a study analyzing the impact of walking on those with PTSD, researchers found that regular walking leads to a decrease in such symptoms as low-level depression and trouble sleeping.
COMMUNITY:
Hanging out with others, especially after such a long spell of being quarantined indoors, is especially good for mental health. Spending positive, active time with family on a beautiful day does a lot to improve a sense of well-being. Childhelp team members manned information booths, handed out treats and oversaw a host of games for kids of all ages. Volunteers from across the Valley, including ASU Sigma Nu fraternity brothers handing out candy and rallying the runners, made the event extra special.
ART THERAPY:
A crafting table was set up for families to get creative at the event. Art therapy is part of most children's counseling process at Childhelp. It allows them to share stories they may still be too afraid to speak of verbally. From clay to crayons, consider art an important parenting tool to help children communicate their emotions as well as a great way for parents to let off a little steam through self-expression.
FACING FEARS:
We encourage survivors to join our cause because getting in touch with past abuse while helping children currently in need of intervention, treatment and prevention can help turn dark memories into positive action. Along the Trick-or-Trot trail were informational signs sharing the truth about abuse in our nation but also showing how many children Childhelp serves each year through our programs. Knowing you are part of the solution can be part of a healing process.
PHILANTHROPY:
Doing good for others can be good for you! Whether purchasing a single ticket or being part of a fundraising team, a great group of generous hearts in crazy costumes had an amazing afternoon in the sun. Each caring spirit knew they were doing something special for the love of a child!
---
SPECIAL THANKS TO THOSE WHO MADE IT ALL POSSIBLE:
Team Childhelp Wings:
Carol Hebets
Janell Grady
Courtney Harder
Celeste Hopkins
Angela Phillips
Robin Hodge
Julie Melton
Theresa Kleinlein
Kathy Emig
Sponsors:
The Hebets Company
R &R Lotion
Gabel Phillips Group-RETSY Real Estate
Sigma Nu Fraternity – ASU
Donations/Vendors:
McCormick Ranch Golf Club
DJ Ben Jammin' (Ben Laliberte)
Jump Bunch
Purely Sedona
Wow Wow Lemonade
Fairmont Scottsdale Princess
Sara Waterman Photography
Kidstop
The Fairy Experience
What's Poppin' AZ