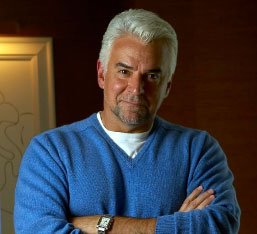 John O'Hurley
Actor/Television Personality
John O'Hurley Actor, singer, author and philanthropist, John O'Hurley is one of television's busiest and most versatile stars. Best known as "J. Peterman" on Seinfeld, he has appeared on television sitcoms, soap operas, feature films and live theater. John is a New York Times Bestseller author with his book, It's OK to Miss the Bed on the First Jump: And Other Life Lessons Learned from Dogs and was also a contestant on the first season of Dancing with the Stars.
Outside of the entertainment industry, he is an entrepreneur and Renaissance man. Life truly imitates art for him, as he is the real John Peterman's business partner and part owner of the J. Peterman Company! He is also a private venture capitalist and co-founder of Energy Inc., a company dedicated to facilitating clean, green energy production.
John has been involved with Childhelp for a number of years, always eager to support the prevention of child abuse through his talents and skills.
Click here to see John O'Hurley promote the Childhelp Run the Course.