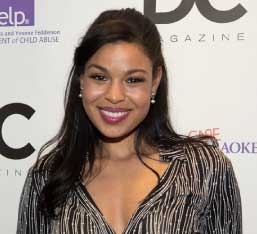 Jordin Sparks
Recording Artist/Actress
Jordin Sparks is an American pop and R&B artist, songwriter and actress. At age 17 Sparks won the 6th season of American Idol. Her self-titled album spawned two top-ten singles on the Billboard Hot 100 –Tattoo and No Air. Sparks' second album, Battlefield, reached number 10 on the Billboard charts. Sparks has won numerous awards including the NAACP Image Award, a BET Award, American Music Award, People's Choice Award and two Teen Choice Awards. Jordin has made numerous appearances on several television series, starred on Broadway in In the Heights, and recently made her feature film debut in Sparkle. Sparks will soon be starring in her second film, The Inevitable Defeat of Mister & Pete.
As a Childhelp Celebrity Ambassador, Jordin has brought joy to the children of Childhelp by visiting Childhelp's  Merv Griffin Village in California, and Childhelp's Alice C. Tyler Village in Virginia. She spoke during our 2012 National Day of Hope awareness luncheon on Capitol Hill in Washington DC, and performed at Childhelp's Capitol CAREaoke. Jordin chose Childhelp as her charity of choice as a Variety's Power of Youth honoree, and has filmed a three-minute video featuring the work of Childhelp along with her I'm M.A.D. Are You? campaign.
Click here to see Jordin's visit to the Childhelp Merv Griffin Village in Beaumont.