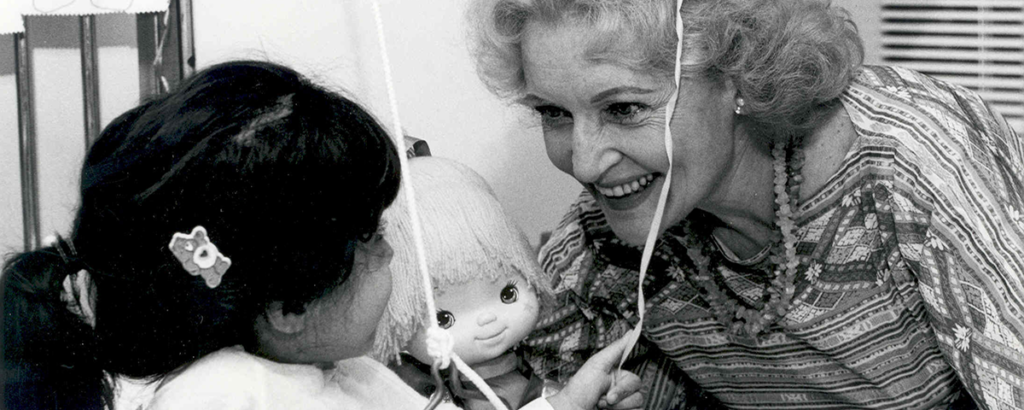 Much has been written about the life of longtime Childhelp Celebrity Ambassador, television pioneer, and America's Grandma Betty White in the days since her death in the early morning hours of Dec. 31, 2021.
To those who knew her, White was more than a star who earned seven Emmy Awards across more than six decades on- and off-screen. The humor and talent America saw on TV was matched with deep compassion, loyalty and commitment to service.
In a 2019 interview, Childhelp Co-founder and CEO Sara O'Meara expressed gratitude for White's service on behalf of the children. "Childhelp has been so blessed to have her as a friend and advocate," she said, recalling the times over the decades that White had visited children from Childhelp Merv Griffin Village, appeared in public service announcements and emceed fundraising events.
Yvonne Fedderson, Co-founder and President of Childhelp, also reflected on White's service, "For a celebrity beloved by young and old across the country to give so much of her time and compassion over the years to victims of child abuse means lives are being saved and hearts are being healed."
White also remains known for her philanthropic work in animal welfare, notably supporting the Los Angeles Zoo and the American Humane Society.
"I'm the luckiest person in the world," White once told TV Guide, "My life is divided in absolute half: half animals, half show business. I have to stay in show business to pay for my animal work!"
But for Childhelp, Betty White found more than a life split down the middle by show business and animal welfare. The star always found room in her heart … for the love of a child.
Early Years
Betty Marion White was born Jan. 17, 1922, in Oak Park, Illinois, to Horace White, a traveling salesman and electrical engineer, and Tess Curts White, homemaker. An only child, White moved with her parents to Los Angeles during the Great Depression.
Shortly after graduating from Beverly Hills High School in 1939, she pursued an early interest in acting with modeling gigs and community theater. But her show business career wouldn't begin in earnest until after she sidelined her Hollywood ambitions to volunteer with the American Women's Voluntary Services during the Second World War.
After the war, White began to take roles in radio, eventually landing her own radio program, The Betty White Show. In 1949, White made her way to television as co-host of Hollywood on Television, an early five-and-a-half-hour long television talk show that featured sketches, including a recurring sketch where White played a housewife named Elizabeth.
It was through that character, and the half-hour sitcom she would inspire, that White would eventually make her break into stardom, and find a connection to Childhelp.
Breaking Through
In a recent e-mail update to supporters, Childhelp's Yvonne Fedderson recalled her marriage to Don Fedderson, producer of programming like My Three Sons and Family Affair, and she shared insight into some of Betty White's earliest television opportunities:
"One of [Don Fedderson's] earliest shows was called Life with Elizabeth about a seemingly normal suburban couple who get into plenty of hijinks because of the wild and wonderful wife, Elizabeth, who was played to perfection by Betty White.
These were the days when women were not given power positions in Hollywood, but my husband knew that without Betty's bravado and creative collaboration, there would be no show. He insisted she be given full control in front of AND behind the camera. She became one of the first few women in history to be offered this chance, and … received an Emmy Award nomination for her performance."
Life With Elizabeth, was in syndication for two years, after which White produced and starred in her own variety program from 1952 to 1954, The Betty White Show.
In 1954, White hosted a black dancer, Arthur Duncan, on her show and met some blowback from stations in the still-segregated south.
"I was on the show," Duncan recalled in a 2017 interview, "and they had some letters out of Mississippi and elsewhere that some of the stations would not carry the show if I was permitted to stay on there. Well, Betty wrote back and said, 'Needless to say, we used Arthur Duncan every opportunity we could.'"
60s and 70s: Game shows and Sitcoms
Through the 1960s, while IOI, the organization that would later become Childhelp, was building and supporting orphanages and hospitals in war-torn Vietnam, White made her rounds through talk shows and game shows like To Tell the Truth and the Tonight Show with Jack Parr.
A frequent guest on the game show Password, the twice-divorced White married the show's host, Allen Ludden, in 1963. They remained married until Ludden died in 1981.
Betty White made her first appearance as Sue Ann Nivens in the Mary Tyler Moore Show in 1973, and would soon join the main cast until the show's end in 1977. While Mary Tyler Moore's Mary Richards and Betty White's Sue Ann Nivens were somewhat competitors onscreen, the talented actresses who played them had been friends in their personal life, even before the show. White won two Emmys for the role.
Golden Years, Golden Girls, Golden Heart
In the 80s, Betty White would make visits to what was then called Children's Village USA, now Childhelp Merv Griffin Village, bearing gifts for the children recovering there, and she'd make special visits to children from the Village in the hospital too.
She was a big supporter of the Childhelp Ranch Program, understanding the important bond between a recovering child and therapy animal in the healing process. There was even a llama at the Village named 'Betty Llama' in her honor.
After a couple seasons as the recurring character Ellen Harper in Mama's Family, a role she had introduced earlier on the Carol Burnett Show. White and Mama's Family costar Rue McClanahan would join forces again in the smash television hit The Golden Girls, Betty playing Rose Nylund, the cheery, if naive, roommate. She kept this, her second career-defining role, through seven seasons, until 1992.
But still Betty made time for the children who count on Childhelp and the precious animal-assisted therapy programs. In an e-mail tribute to the star, Childhelp co-founders Sara O'Meara and Yvonne Fedderson recall one such time:
She knew that these essential programs were expensive to maintain and would join us, sometimes literally at the last minute, to emcee fundraisers. We recall one specific show that was collapsing before our eyes. The slated emcee had to cancel, and the featured singer got sick. The night before the event, there was no show!
One call to Betty White was all it took. She showed up the next night in top form with a big smile and a sharp one-liner, "Well, I guess I'm here because they got to the bottom of their list, the W's, and they finally called me!" She brought down the house.
Into the new Millenium
Through the nineties and into the 2000s, Betty White continued to take Television roles, but she would often be seen on the silver screen as well, and even TV ads.
It was not uncommon during this time for White to reprise roles such as Rose Nylund or to make an appearance onscreen in a cameo role or as herself, winning a 2010 Primetime Emmy for her guest appearance in Saturday Night Live. She also had recurring roles in acclaimed shows such as The Bold and the Beautiful and Boston Legal. From 2010 to 2015, she made a full six seasons in TV Land's Hot in Cleveland as Elka Ostrovsky, the judgmental elderly caretaker and landlord, yet another career-defining role.
It was around this time that Betty White again answered the call from Childhelp, this time for a public service announcement alongside Shaquille O'Neal, coaching a basketball team that included classic Hollywood stars like Norm Crosby pitted against 90s rockers Buckcherry.
Acclaim continued to follow Betty White through her nineties, with a 2012 Grammy for the audiobook version of her sixth book, If You Ask Me, but her sense of humor wouldn't falter despite her esteem. As host and executive producer of Betty White's Off Their Rockers, she made way for elderly pranksters to one-up more youthful victims of practical jokes to the delight of the television audience. In 2017, at age 95, she became the oldest new member of the Academy of Motion Picture Arts and Sciences.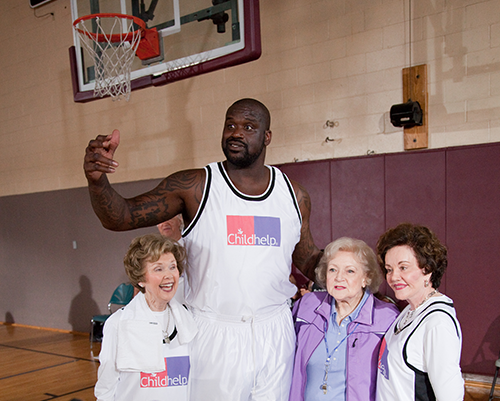 While invitations to Childhelp events remained open through recent years, Betty expressed her dismay at having to miss them.
"I can't fly right now, you know," she told O'Meara and Fedderson, "I plan to live to be 100."
Betty White was only a few weeks away from seeing that plan to completion when she passed away, but she will live forever in the hearts of our Founders and the Childhelp Team.