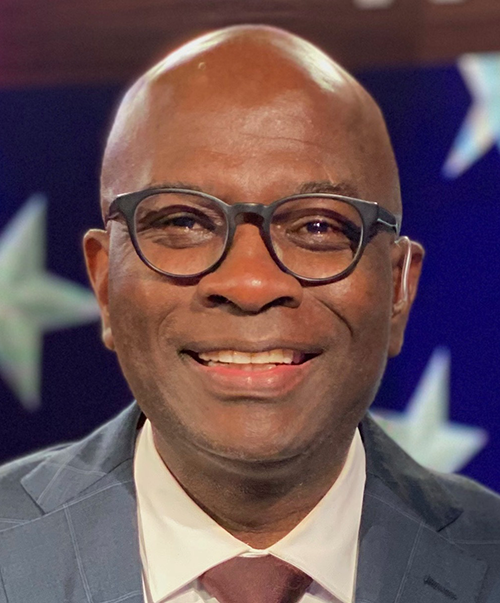 Armstrong Williams
Board Member
Armstrong Williams has extensive experience in television programming. Since 1995, Armstrong Williams has produced weekly television shows, which are nationally syndicated and air internationally. His extensive experience in television programming has produced prime-time specials with US Supreme Court Justice, Clarence Thomas; poet, Maya Angelo; Former Vice-President, Dick Cheney; Retired Pediatric Neurosurgeon, Dr. Ben Carson; Boxer, Floyd Mayweather; Comedian and television host, Steve Harvey, and the Prime Minister of Israel, Benjamin Netanyahu.
Mr. Williams is the host of "The Armstrong Williams Show"; a nationally broadcast show that airs on Sinclair Broadcast Group and Howard Stirk Holdings affiliates. Williams is also host of "The StrongCast" podcast and a syndicated columnist with Creators Syndicate. He is the author of What Black and White People Must Do Now: A Prescription to Move Beyond Race, released 2020. He has been a frequent guest on shows and networks such as The Today Show, Good Morning America, Charlie Rose, CNN, MSNBC, Sky News, DC TV, TV-One's News One Now with Roland Martin and the Joy Behar show.
In addition to his extensive background in television and radio, Mr. Williams is the founder and CEO of Howard Stirk Holdings (HSH). HSH creates multifarious content relative to politics, entertainment, and topics of social and cultural relevance. With six television stations as subsidiaries and plans for growth, the Federal Communications Committee (FCC) designates Armstrong Williams, the largest minority owner of broadcast television stations in the United States, which currently contains less than 2% [percent] minority ownership. 61% [percent] of HSH employees are minority, and 70% [percent] of Howard Stirk Holdings senior executives are minorities. Currently, HSH has 6 subsidiaries in the following cities: Birmingham, AL (2-stations) Flint, MI, Las Vegas, NV, Charleston, SC, and Myrtle Beach, SC.
Mr. Williams served as Dr. Benjamin Carson's business manager; executive editor of American Currentsee Magazine in partnership with The Washington Times newspaper. Armstrong has also served on several boards such as the President's Commission on White House Fellows, Newsmax Advisory Council, Independence Federal, S&L Bank board of directors, and presently serves on the Carson Scholars Fund.
In 2016 Armstrong was recognized by The Multicultural Media Correspondents as their Media Owner of the Year. Williams was also recognized in 2017 at as his alma mater, South Carolina State University (SCSU) with their Lifetime Achievement award. Williams also started Howard Stirk Holdings Media Fellows and D.C. Opportunity Media Scholarships. In March 2017, he donated $250,000.00 to his alma mater SCSU.